taahra infuses the tones and textures of coal
Taste Space's Taahra Thai Charcoal Grill Bar is a modern new restaurant and bar nestled within a small, narrow alley in Bangkok, Thailand. The project's design concept draws inspiration from the aesthetics of coal and charcoal, to create a sleek and contemporary interior defined by a medley of rough and smooth textures, crafted coal stones and tiles, warm tones of charcoal grays, and dramatic lighting. The dark interior, accentuated by soft accent lighting, is further enhanced by hints of luxury from small details like dark bronze and brass lamps. The space is instilled with a sophisticated quality, exuding a serene ambience for visitors to unwind within, while projecting a distinguished façade.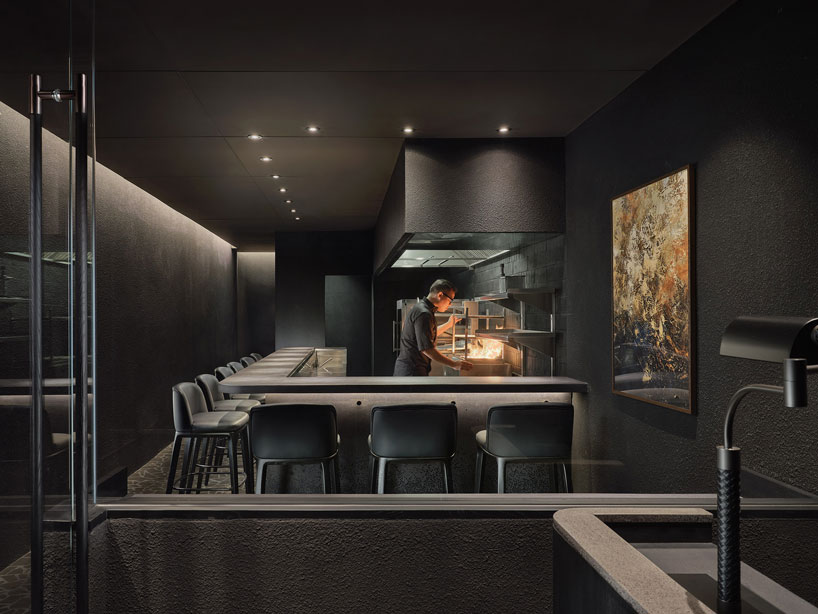 live grill bar where customers can watch the chef cook
all images courtesy of Taste Space
taste space unveils new restaurant and bar in bangkok
As Taahra is located in a residential neighbourhood in an old town area, the Bangkok based designers were met with the challenge of maintaining the restaurant's privacy while also ensuring that ample natural light shines through. As such, Taste Space incorporates frosted glass windows that optimize daylight exposure, maintain an exclusive environment for customers within, and present a sophisticated façade onto the street front. Despite the somewhat rundown and unassuming location of the restaurant and bar, the designers draw a unique characteristic to the restaurant by placing a black log at the entrance. In an interpretation of firewood and grill, this references the coal and charcoal imagery of the design concept. The prominent and sleek new façade has been painted solid black, distinct from the multicolored buildings surrounding Taahra.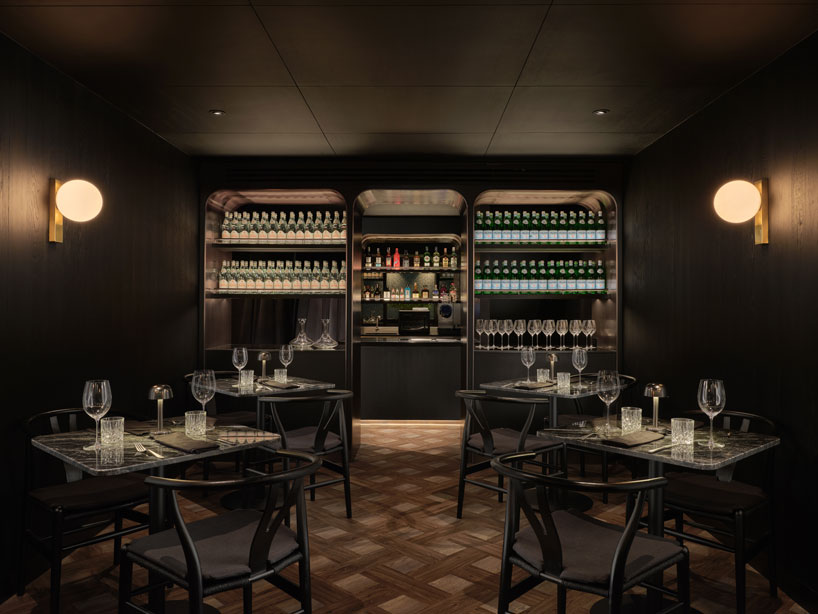 the design of the second floor dining area mirrors the appearance of charcoal
dramatic lighting accentuates the dark interior 
This bold appearance is continued and echoed throughout the restaurant's interior. The furnishings and interior design have been carefully crafted by Taste Space to further evoke the coal and charcoal imagery, utilizing smooth wooden and concrete materials to enhance a warm and cozy ambience. While the first floor is primarily inspired by coal, the second floor is inspired by charcoal. Upon entering the restaurant, customers are met with a live station grill bar where the chef can be seen cooking the delicacies in a live performance, illuminated by the spotlights above. In a unique display, the terrazzo countertop is designed by Taste Space to emulate the distorted appearance of coal dust and flames. The designers further incorporate scattered tiles for flooring, arranging them in a mosaic-like pattern that resembles a coal stockpile. 
Due to planning restrictions, the architects were unable to demolish the original existing staircase. Hence Taste Space conceals the old one with a new winding, minimal staircase featuring soft recessed lighting that serves as a connecting element between the bar and restaurant spaces.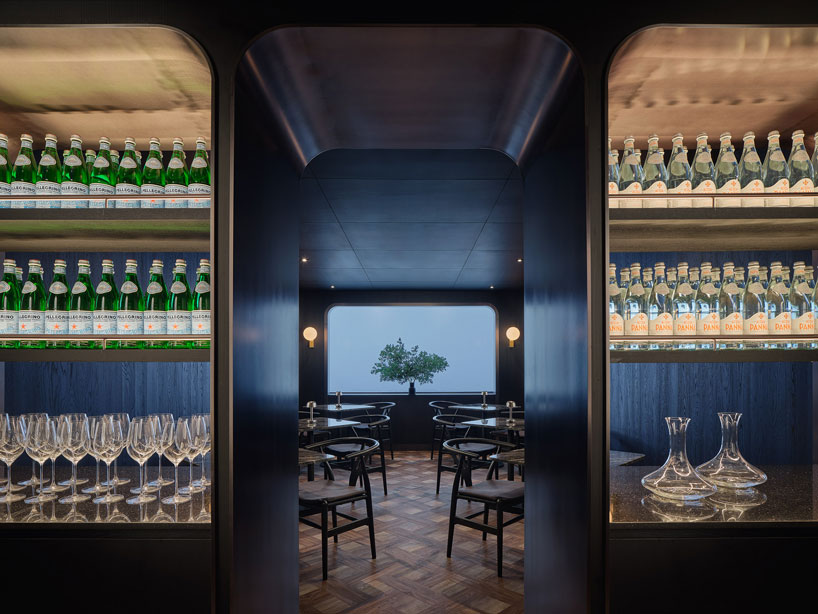 the design of the second floor dining area mirrors the appearance of charcoal