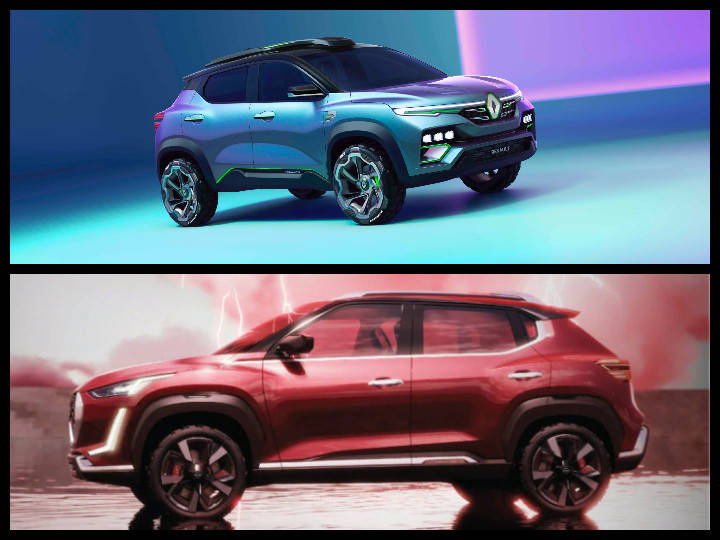 The recently unveiled Renault Kiger concept can easily be considered a Nissan Magnite in a different set of clothes. However, the French carmaker has done a pretty decent job of differentiating the Kiger from its Nissan sibling. Renault says the production-spec Kiger will retain 80 percent of the concept's design elements. 
In this report, we'll be focusing on the major differences between the exterior design of the two SUVs. We'll compare the interiors in a different report when Renault reveals the Kiger's cabin. 
Bold Front End 

Both SUVs feature a bold front-end that follows the brand's design language. 

The Renault Kiger gets a bold Triber-esque grille, flanked by split LED headlamps, which seem inspired by the Kwid. The DRLs extend all the way to the logo, imparting a premium feel. 

The Nissan Magnite's front-end with its single-piece grille and L-shaped DRLs reminds us of a Datsun. Nevertheless, it works here and stands out from the crowd. 
Familiar Side Profile

The side profile of both SUVs is similar with squared-out wheel arches and muscular haunches.

The concept versions of both SUVs utilise 19-inch wheels, but like the Magnite, the production-spec Kiger should come with 16-inch units. 

The Kiger concept comes with roof rails with a roof rack, hinting at usable roof rails, like the Magnite or even the Triber.  

Renault has added a dash of green for some funk. 
Similar, But Different Rear End 

Though the rear silhouette of both SUVs looks similar, they get unique design elements. As far as concepts are concerned, the Kiger's rear end is a lot more radical in comparison to the Magnite. 

While the Magnite features split tail lamps with incandescent bulbs, the Kiger comes with 'C' shaped LED units. 

Topping up the design is a butch bumper on both models. Expect the production-ready bumper to bear dual-tone finishing in the Kiger, just like the Magnite. 
Things You Should Know 

Both models are based on Renault's CMF-A+ platform. 

They will be offered with the 72PS 1.0-litre naturally aspirated petrol engine and a new 100PS 1.0-litre HRA0 turbo-petrol engine. 

A 5-speed manual transmission is offered as standard while the CVT is limited to the turbo-petrol engine. However, the Kiger could get an AMT with the naturally aspirated engine because of its application in the Triber.

The Magnite is likely to be priced between Rs 5.50 lakh and Rs 9.55 lakh (ex-showroom) as per leaked information. 

We expect similar pricing for the Kiger once it goes on sale in early-2021. 

The Magnite could be launched on November 26, according to our sources.