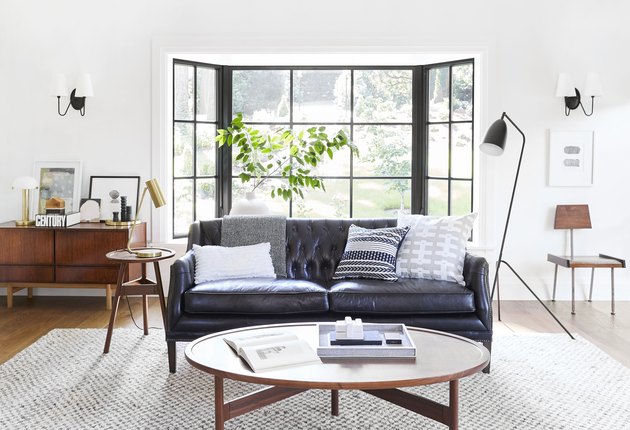 There are few things quite as dreamy as an impeccably-designed midcentury modern family room. Because of their sharp lines, retro color palettes, and minimalist structure, many midcentury modern family room ideas are not only calming to the eye, but also welcoming in their simplicity. There's just something about this interior style that makes you feel right at home. But what does it take to find the best decor and lighting for this type of room?
When it comes to midcentury modern interior design, there's really only one thing you need to remember: Less is always more. This is especially true for family rooms, where every bit of space is precious. After all, it's where we gather to spend quality time with one another.
So, if you're looking to incorporate a less-is-more approach in your own space, look no further — here are nine midcentury modern family room ideas that will make you feel right at home.
1. Emphasize clean lines with pronounced angles.
Midcentury modern design often features vintage furniture and natural materials. But it is best recognized for its particular use of lines and angles. Whether it's a piece of furniture or a unique wall art selection, each element of the room should communicate with the others. And this family room does so effortlessly. The black accents complement each other and pull in the hard lines from the surrounding walls and stairwell. Those angles are then softened by the gray l-shaped couch and decorative tree cutting.
2. Include some geometric patterns.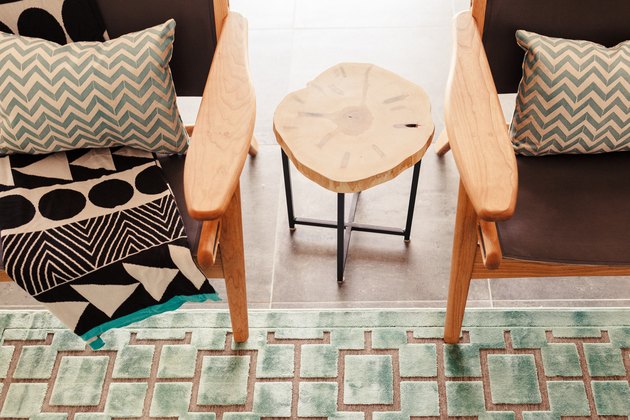 Geometric patterns subtly appear in large and small midcentury modern family rooms. And they definitely pack a punch. Take this combination of geometric throw pillows and the tiled rug, for example. It's so visually interesting. It's easy to overdo the patterns, though, so be sure to choose designs that can be mixed and matched.
3. Keep the space open and functional.
When designing your dream family room, ask yourself, "What is the most important thing I will do in this space every day?" Maybe you like to throw game nights that require a large coffee table and many smaller chairs. Understanding the function and layout of your space will help you prioritize the furniture pieces you really need. And you won't lose a bunch of space in the process.
4. Add a little pop of color.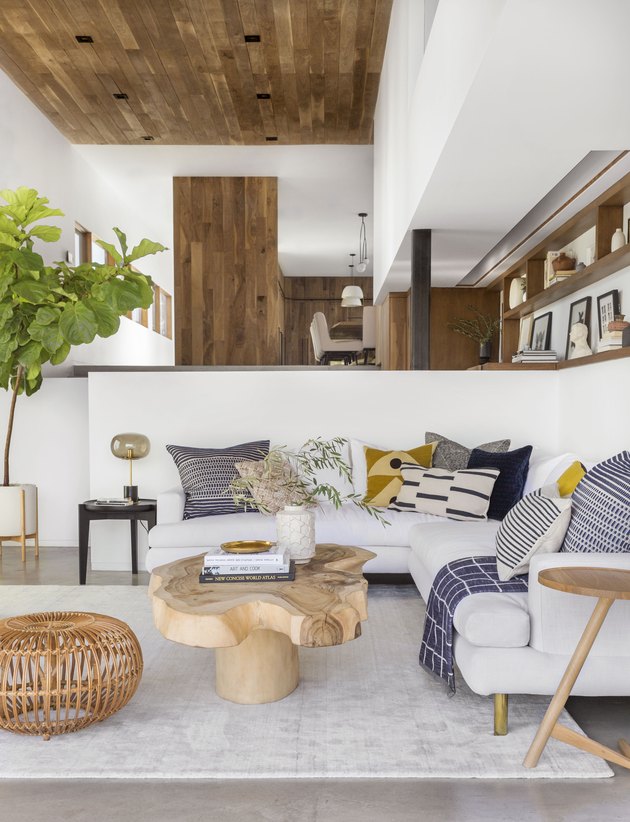 While midcentury modern family room ideas may seem to favor neutral color tones, adding a pop of color can take your design to the next level. In this Emily Henderson space, for instance, we have a lovely, crisp white room in which blue and yellow accent pillows are able to shine. And if pillows and throws aren't your thing, lush, green plants like the fig tree here can introduce color and still complement the natural tones.
5. Incorporate wooden furniture with tapered legs.
Wooden furniture with curves and tapered features are must-haves in a midcentury modern family room. And everything from chairs to storage shelves and credenzas can have tapered legs. The shape allows items to take on the illusion of weightlessness. This can be an especially lovely trait in dark spaces with moody tones, like in the room above.
6. Highlight the space with sleek lighting.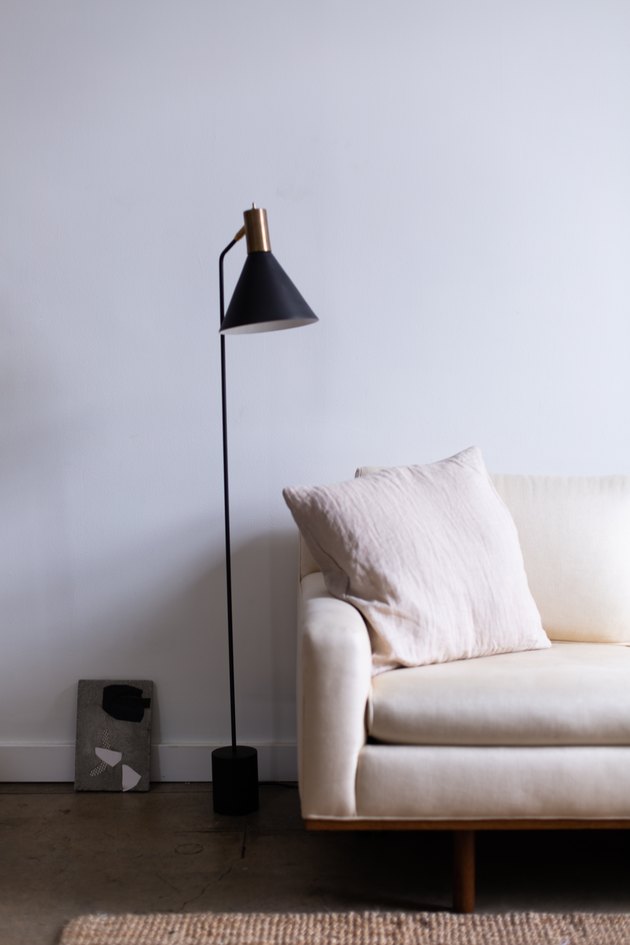 Finding the right type of lighting for your space can be the most fun and most challenging aspect of design. And when it comes to the family room, you want to make sure the lighting brings the right energy into your space. Luckily, midcentury modern lighting is easy to incorporate. Whether you want industrial bulb lights or a standing floor lamp, the perfect combination exists.
7. Embrace large windows and mirrors.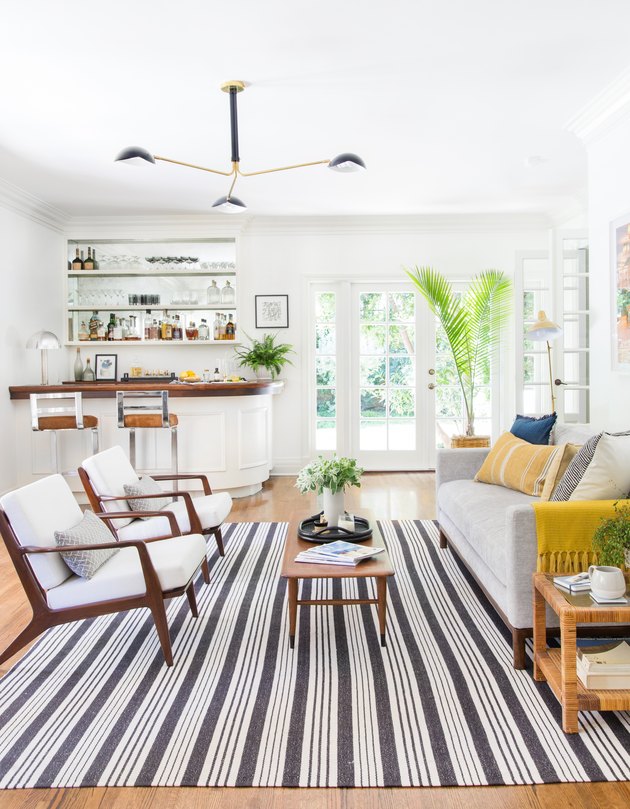 One of the more eye-catching aspects of any midcentury modern family room design is its perceived weightlessness. You can attain this airy vibe by keeping large windows unobstructed; forget the curtains. Or if you don't happen to have large windows, incorporate mirrors to reflect light. This room from Emily Henderson does a little bit of both, preserving the space around the French doors' windows and embracing a mirrored shelving unit.
8. Combine natural and man-made materials.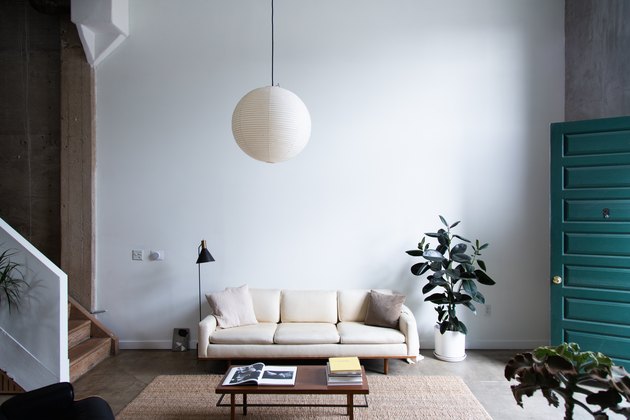 Every good midcentury modern design needs the right combination of natural and man-made materials. Unifying natural materials like wood and jute with industrial materials creates the perfect amount of contrast within a space. This family room took the hard cement floors and walls and paired them with a plush white couch and spherical pendant light. If, instead, you happen to have rustic floors, try balancing them with some cement plant pots or a glass coffee table.
9. Resist the urge to overdecorate.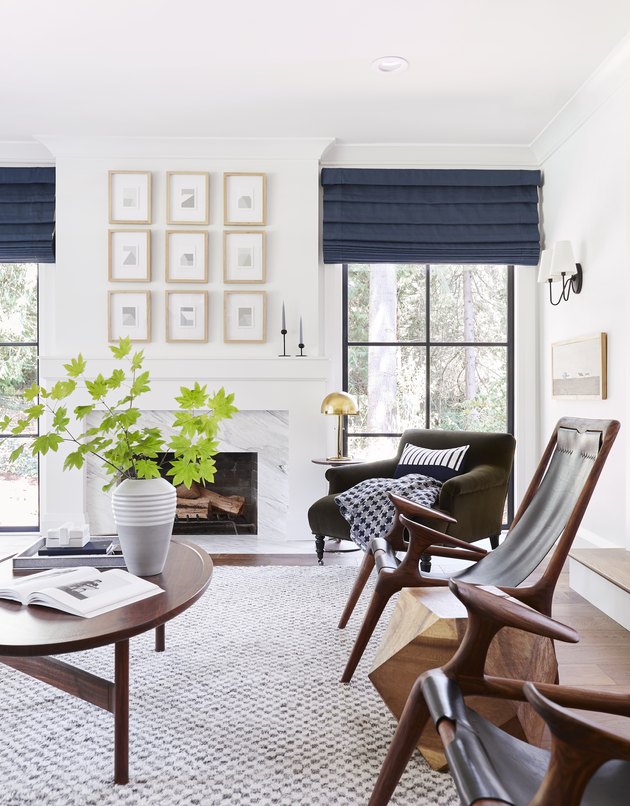 So, have you noticed what all of these midcentury modern family room ideas have had in common? Simplicity and minimalism. It can be tempting to snatch up every gorgeous piece of midcentury modern furniture, but choose which qualities you love the most and stick to them. Otherwise, you run the risk of forgetting the most important rule in the MCM handbook: Less is always more.