The goal, said architect Lauren Pacheco of Washington, D.C.-based Antunovich Associates, is to "return the exterior of the Statler from the pedestrian standpoint back to its original look" from 1923.
For the most part, that means "trying to replicate what is missing," but in some cases workers will seek to "restore it not quite to what was there, but something similar," Pacheco explained to the Buffalo Preservation Board, which received the proposal on Thursday, and assigned a design review committee to evaluate it. 
Among the tasks, crews will remove the red granite that now clads the ground-story of the building, but was not part of the original design. They will also restore the original terra cotta covering, where it exists, as well as other terra cotta ornaments that had worn down over many years, Pacheco said.
The temporary vestibule on the main entrance on Delaware Avenue will be removed, while the revolving doors will be repaired and restored. Other retail doorways that were relocated at some point in the last 97 years will be moved back to their original locations.
"We're keeping with the same rhythm of storefronts that were there," Pacheco said.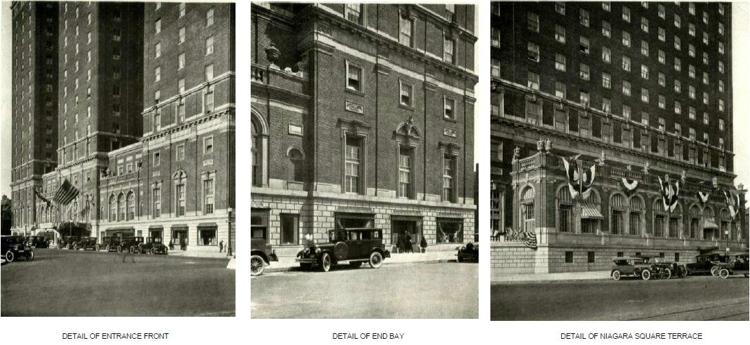 On the side of the building facing Genesee Street, Jemal wants to reduce the long storefront opening – originally just small windows with grates on them, as along Mohawk Street – to match the design of retail spaces along Delaware. The existing wood windows on Mohawk, with grates in them, will be repaired and repainted.