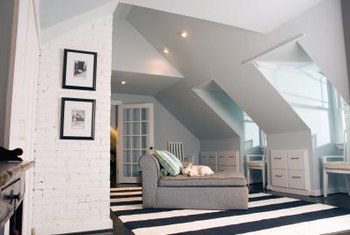 Vaulted or cathedral ceilings in a living room can create a dramatic and spacious look. It can be a challenge, however, to match furniture, accessories, lighting and decor to such a space in a way that allows you to emphasize your high ceilings. Consider everything from your color scheme to the size of your furniture in making decorating choices that will help you make the most of this unique design feature.
Color
Use wall color to enhance or detract from the nature of your cathedral ceilings. You can open up the space and make the ceilings look taller by painting your walls a dark color and the ceiling a lighter contrasting color. You can also reverse the technique to create a more intimate living room environment by painting your ceiling a dark color and the walls a lighter hue.
Furniture
Use overstuffed, significant pieces of furniture in a living room with cathedral ceilings. Using small or delicate furniture can make the living room seem too large, and the furniture can get lost in the vastness of the space. Opt for oversize sectionals, solid, sturdy wood tables and extra-large floor cushions. Place furniture along the walls to open up the space, or move it away from the walls to create a more intimate feel.
Accessories
One of the nice things about having cathedral ceilings is that you are free to decorate with accessories that have significant height. Consider tall floral arrangements, decorative wrought iron birdcages and interesting sculptural pieces. You can also use exceptionally large hanging artwork in a living room with cathedral ceilings, such as murals, wall tapestries and framed print collections.
Foliage
Use tall silk trees in your living room to add height and dimension to your living room. Large plants will fill the space while creating a lush environment. If you have recessed shelving on your living room walls, you can decorate with hanging plants, which will break up the continuity of the tall walls and provide an eye-catching decorative element.
Lighting
The lighting techniques you use in your living room can enhance the nature of your cathedral ceilings. For a dramatic look, install recessed canned lighting in your vaulted ceiling, or hang a impressive light fixture from a sturdy, ceiling-mounted pendant. For a more intimate look, use floor stand lights and "up lighting" directed into recessed corners of the living room.
Photo Credits
Jupiterimages/Photos.com/Getty Images