Just like decor and music, fragrance can enhance how we experience a space and how we remember it. Add a new dimension to your interiors with these stylish and functional pieces – each one is designed to complement the look and feel of your home, both visually and fragrantly.
Henry Wilson for Aesop brass oil burner – $195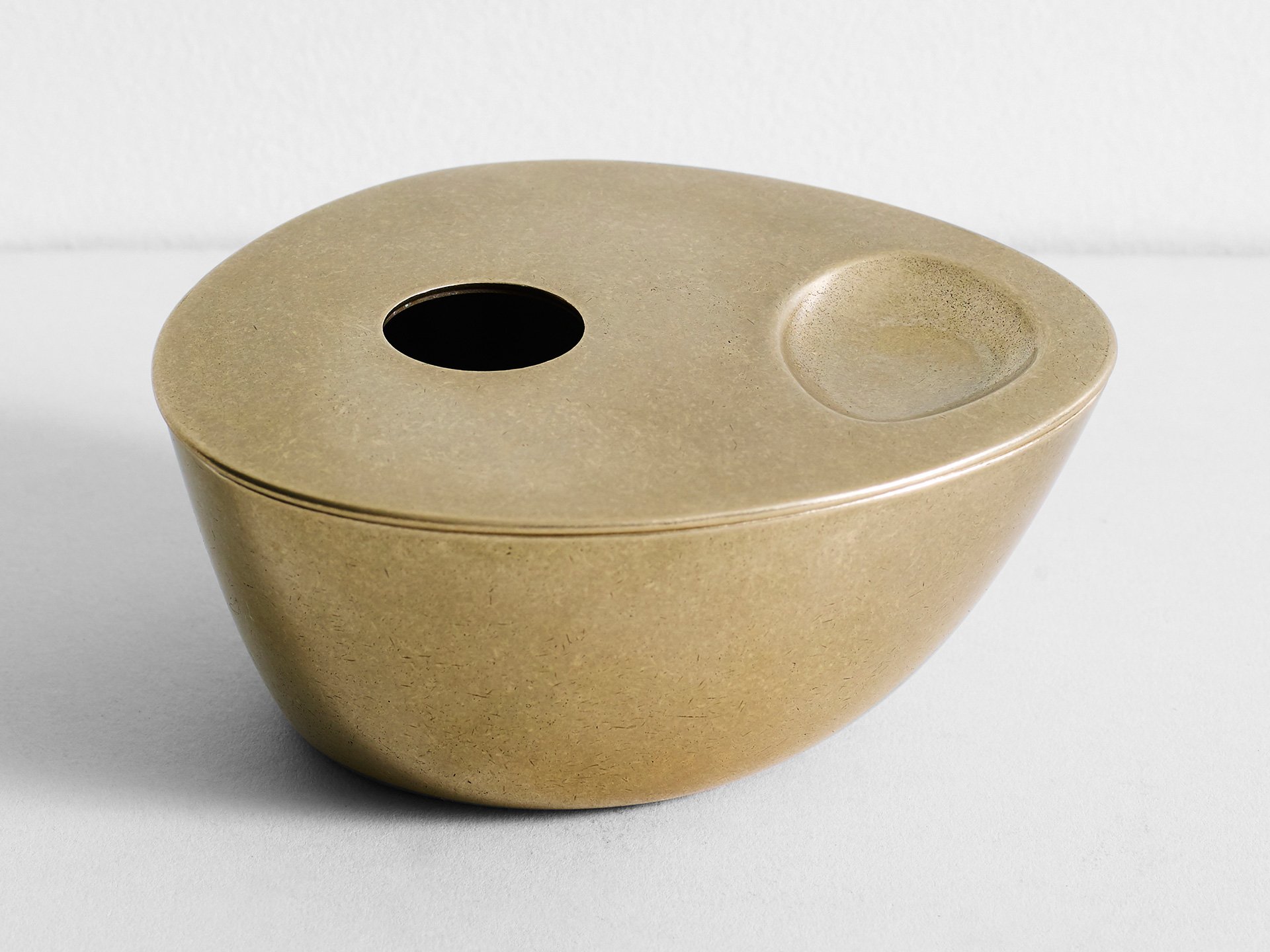 This handsome one-kilo oil burner was the first homewares product Aesop created – a collaboration between two innovators in their respective fields. The luxe, respected Australian skincare brand invited long-time collaborator and trendsetting product and lighting designer Henry Wilson to develop a piece that would be both beautiful and functional. The result, four years in the making, is an organic yet refined burner made from solid brass. The custom cast-metal body gives the object a luxurious and satisfying weight, with the candle and flame hidden and a tiny dimple on top for the oil well. This simple, elegant design will suit a range of interior styles.
aesop.com/au
Hinoki diffuser by Aroma – $49.95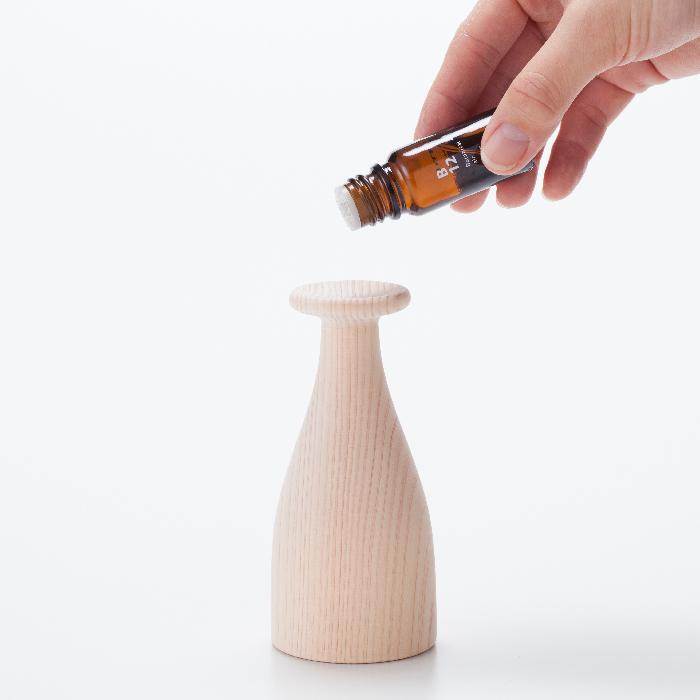 This diffuser by Aroma, the world-renowned Japanese fragrance company, is made from hinoki (Japanese cypress) and requires no flame or power source. The porous nature of the wood absorbs – and slowly diffuses – your essential oils; just add a couple of drops to the top and the material does the rest. The design isn't just elegant, it's also clever – you can store your oil in a slot built into the base.
providerstore.com.au
Monsieur Escargot incense-holder by Maison Balzac – $249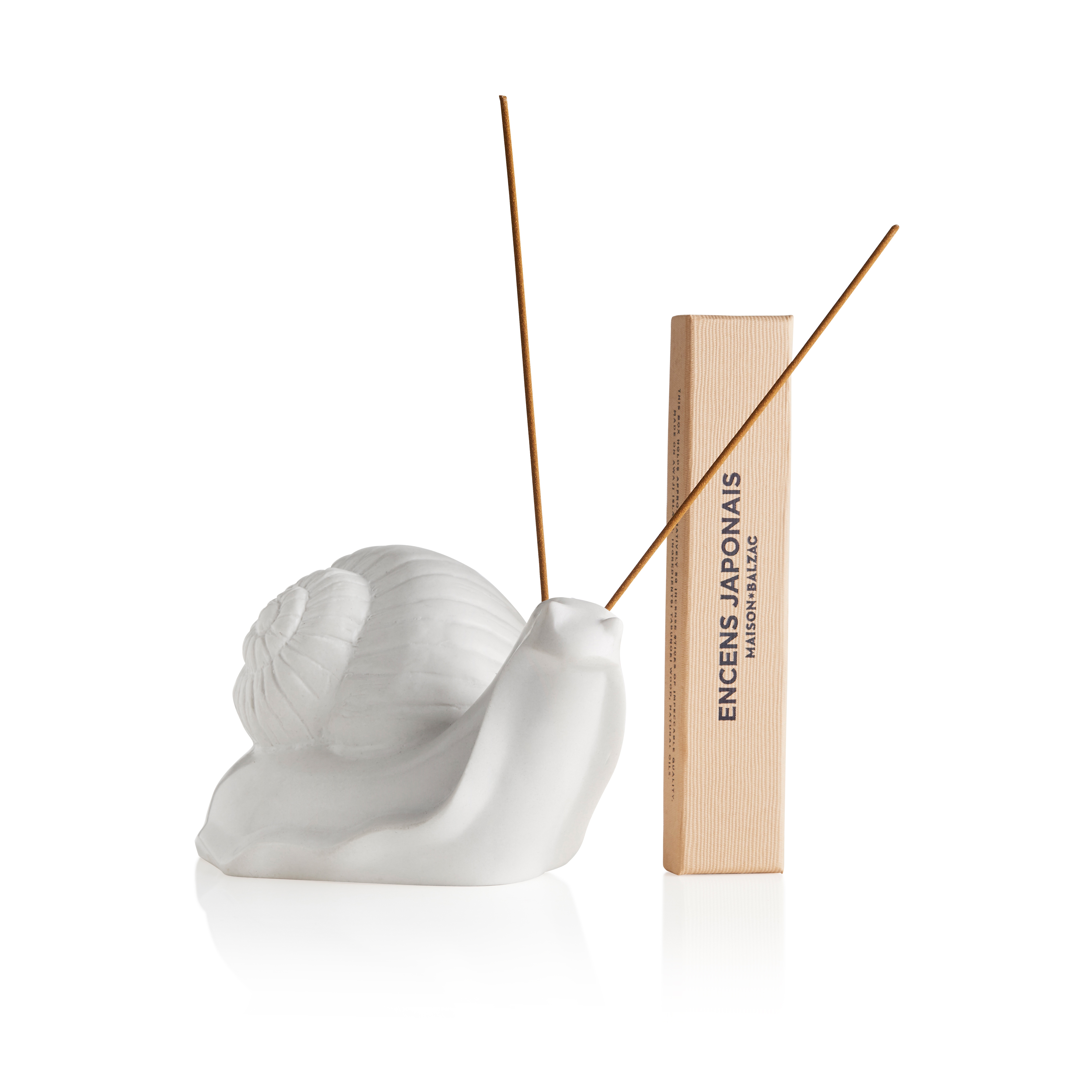 Sydney-based perfumer and homewares label Maison Balzac has released the perfect curiosity for your home. This snail-shaped incense-holder – which holds two incense sticks in lieu of antennae – is made in France from recycled white marble dust from Carrara in Italy, and is inspired by a decorative garden snail that founder Elise Pioch-Balzac found in an antique market in France. It'll be the most sumptuous snail to ever grace your home.
maisonbalzac.com
Brass incense-holder by Thrills – $15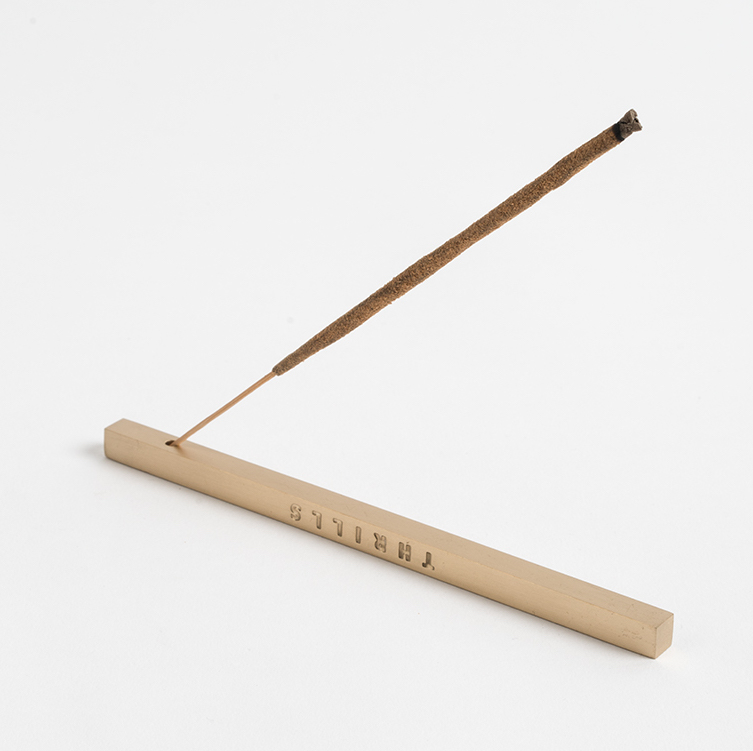 This super-simple, compact, budget-friendly incense-holder will work just about anywhere in your home, office or studio – even in your hotel room. It's designed in Byron Bay by the uber-cool fashion and lifestyle brand Thrills – and you can grab some incense sticks with your order too.
thrills.co
From Soil to Form diffuser by Frama – $250
This collab between Danish brand Frama and Seoul-based creative brand Be My Guest is a fascinating option, consisting of nine red soil spheres housed in a pinewood box. The formed soil absorbs your oil-based fragrance, then gently emits into the air. The earthy tones and sculptural composition make for a beautiful design piece, so position it on your coffee table or bedside table to stimulate both sight and smell.
mettecollections.com.au
Subtle Bodies brass incense holder – $40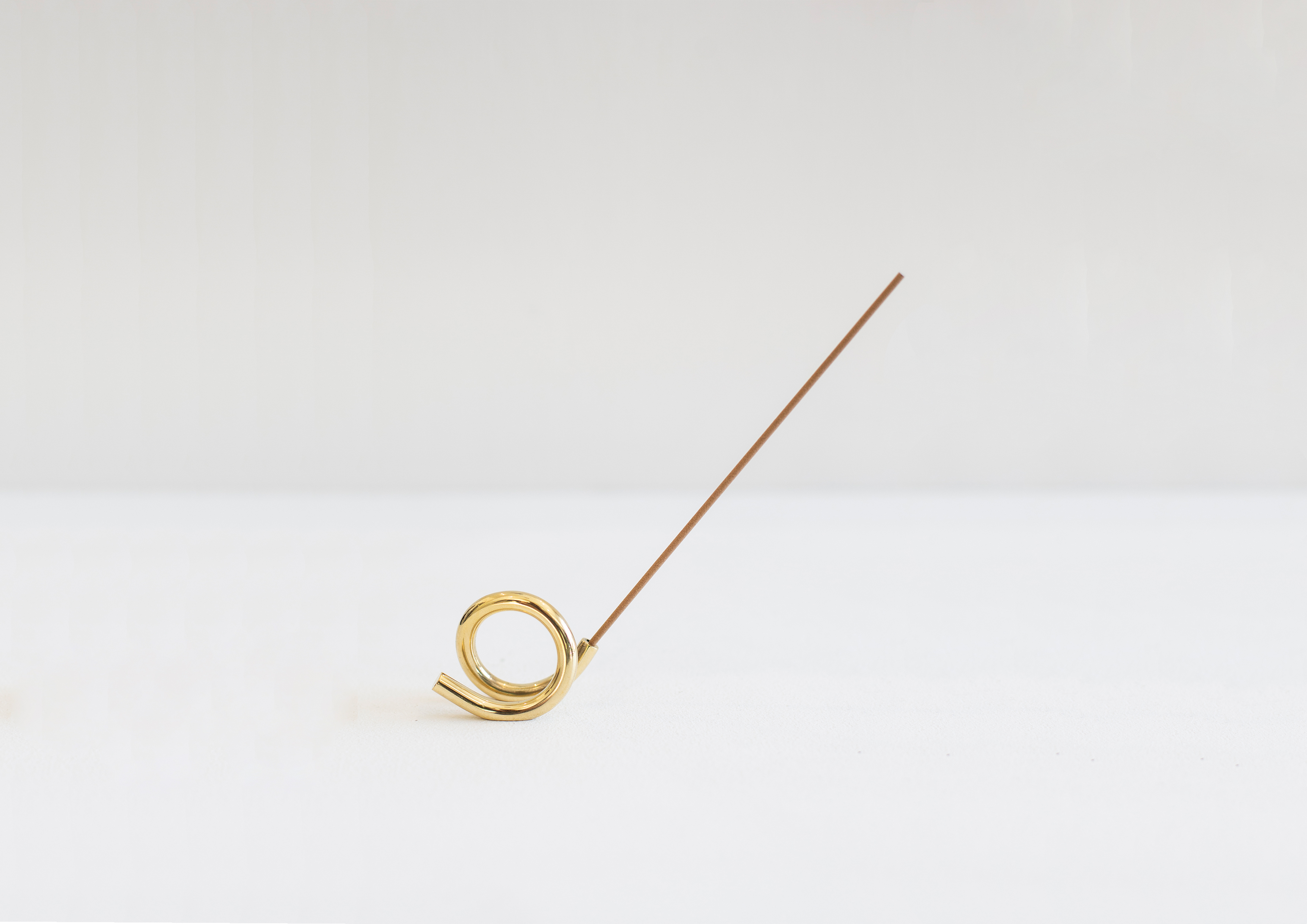 There are a couple different shapes to choose from with these minimalist holders. They are hand formed in London, which means no two are the same. They come highly polished but can be left to tarnish naturally.
ensemblestudios.com.au
Neue Void incense burner by Addition Studio – $300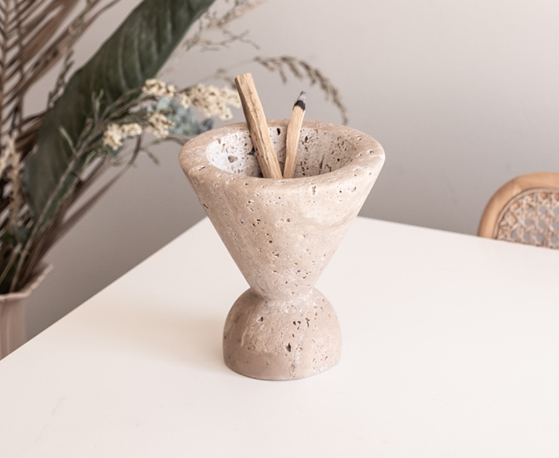 It's impossible to overlook this functional sculpture, which is carved from solid travertine and features a vase-like design to hold and burn your incense sticks. Consider it a long-term investment piece and display it in your home like you would a piece of art. The cost will be justified when it still looks beautiful in 10 years – it's a classic.
additionstudio.com
Resina de Breu by Costa Brazil – $245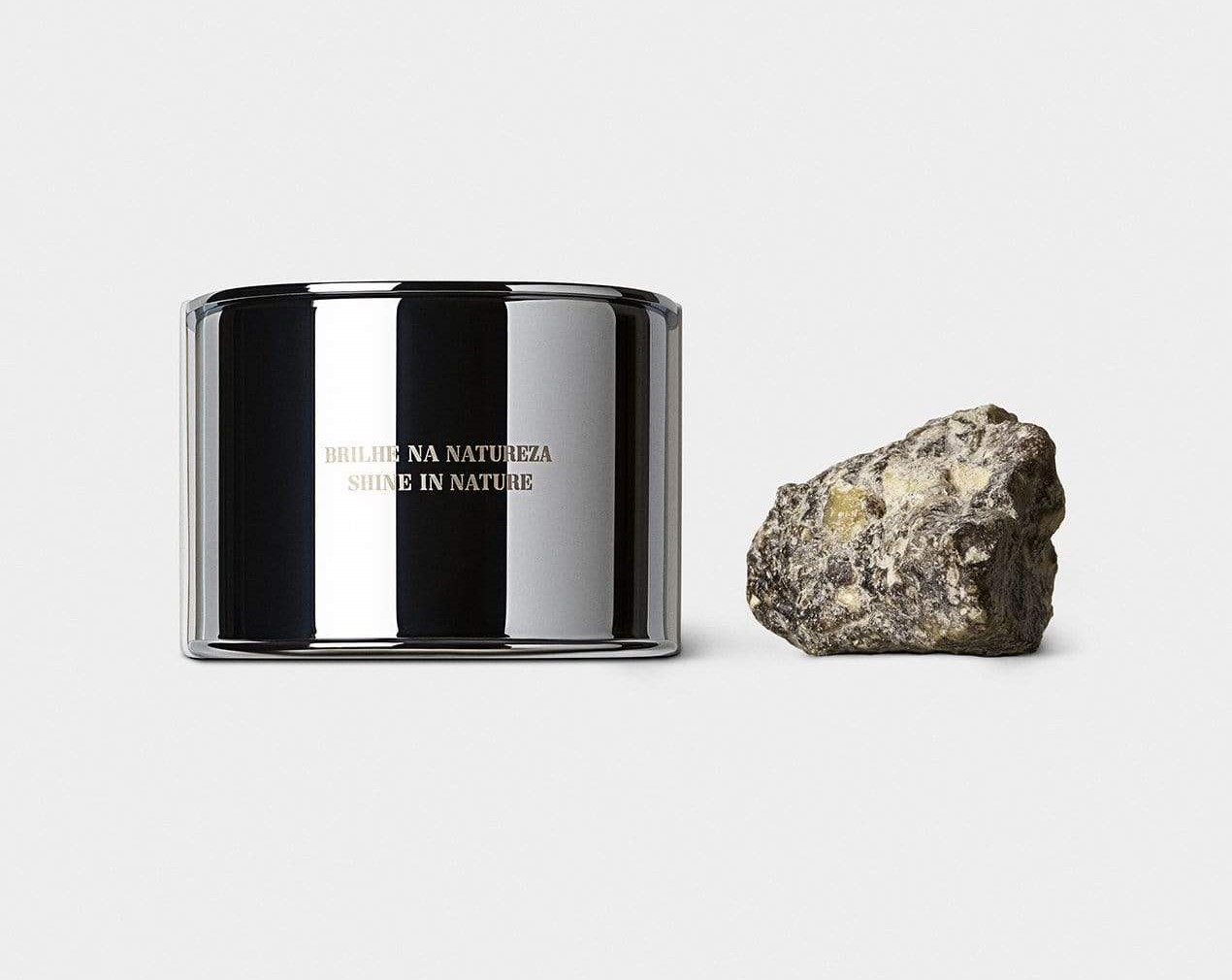 This is not your typical room fragrance. Breu is a natural resin that comes from the Amazon and is revered for its healing aromatherapy benefits. Pop the rock-like object on the ceramic tray and ignite to release a woodsy aroma of rich earth and crushed leaves. This elegant package by eco-friendly beauty label Costa Brazil comes in a chic, minimalist tin – no surprise as it's the brainchild of ex-Calvin Klein creative director Francisco Costa.
livecostabrazil.com
"The Fit-Out" is a regular series written by interior designer Alice Freer. Each month she brings you a curated selection of furniture and design pieces in a range of materials, colours, shapes and budgets. Think of it as your buyer's guide for your home.