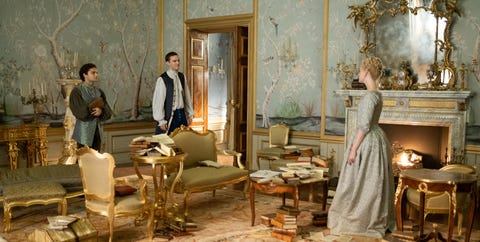 Ollie Upton Courtesy of Hulu
Many TV shows can serve as background noise. These can be familiar comforts, like rewatching that Gilmore Girls episode for the third time while you're cooking dinner or popping in to visit your Friends after a particularly long workday—and there's absolutely nothing wrong with that. There are certain shows in this age of peak TV, however, that demand every ounce of your attention, with sets and production design that often tell as much of the story as the dialogue. From the high-stakes world of Succession to the lavish estates of Belgravia, these are the television shows to stream now for the best design inspiration.
Advertisement – Continue Reading Below
1
Belgravia
Step into the ornate interiors of the latest period drama from Julian Fellowes, the creator of Downton Abbey. ITV's Belgravia, set in 19th-century London, is full of mouthwatering palatial estates and sprawling gardens for your design pleasure. Available on Epix.
2
The Politician
From luxe libraries to chinoiserie, well, everywhere, The Politician provides a feast for the eyes in every scene. Creator Ryan Murphy—of Glee and American Horror Story fame—gives viewers a taste of the lives of upper-echelon families in Southern California. Available to stream on Netflix.
3
Succession
Whether it's the floor-to-ceiling windows in a sleek TriBeCa loft or the water views from a decadent mansion in Southampton, Succession is truly a glimpse into the inner workings and dramas—oh, those dramas—of the 1 percent. Available to stream on HBO.
4
Mad Men
Single-handedly responsible for bringing the midcentury-modern aesthetic into the 21st century, Mad Men showcases the golden age of advertising—and of a certain slice of New York City. Available to stream on Netflix.
5
The Great
Hulu's newest series, The Great—set to debut on May 15—is a self-proclaimed "anti-historical" telling of the rise of Catherine the Great in 18th-century Russia. But the political turmoil is no match for the over-the-top design of the czar's palace.
6
Four Weddings and a Funeral
Mindy Kaling's miniseries adaptation of the classic 1990s romantic comedy of the same name features bold, eclectic interiors—which completely mirror the eccentric personalities that reside within them. Available to stream on Hulu.
7
The Crown
Netflix's award-winning series offers a lightly fictionalized look into every decade of Queen Elizabeth II's reign. More important, it gives viewers a peek into the royal family's sumptuous homes and estates. From the tartan at Balmoral to the poolside luxuries of Princess Margaret's Mustique hideaway, this show covers all the decorating bases.
Advertisement – Continue Reading Below