At one time or another, everyone dreams of owning a one-hundred-year-old farmhouse with shiplap walls and a big wrap-around porch. The nostalgia and comfort invoked by farmhouse decor are almost universally appealing. Unsurprisingly, it has increased in popularity in recent years, and the neutral colors and inclusion of rustic antiques make it an easy to live with style.
35 Simple and Chic Farmhouse Living Room Design and Decor Ideas for Your Home
One of the keys to creating the perfect farmhouse livingroom is finding the right furniture. Casual and comfortable couches, rough-hewn barn-wood coffee tables, and natural decor elements typify the look. Since purchasing a whole new furniture set may be outside of your budget, making use of organically colored cotton or linen slipcovers, a few French country-inspired pillows, and thrift store finds can go a long way towards altering your livingroom's look.
But even if you currently live in an urban apartment, you can still create a cozy country farmhouse feel in your own home by including rustic antiques and a simple color palette. If you would like to add some country charm to your home, the 35 decor examples below feature easy to duplicate design ideas for your own living room.
1. Shabby Chic Farmhouse Living Room Decor Ideas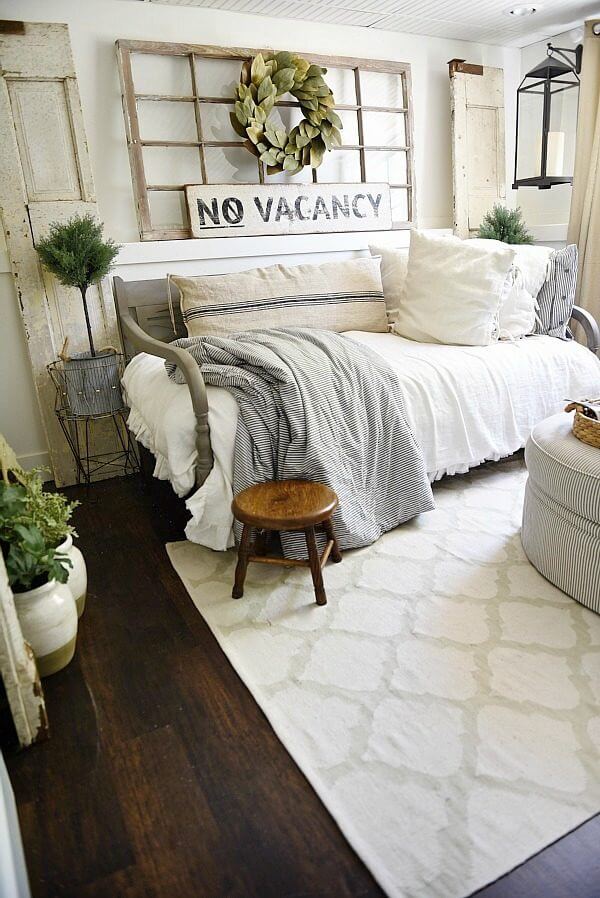 An incredible shabby chic look for your living room is easily accomplished with rustic colors and patterns. This living room features a beautiful dark wood floor, complemented by a white and gray rug in a Moroccan pattern. The couch closely resembles a daybed, covered in plus white and gray blankets and pillows. The signs, vintage window, and green plants make the room feel bright as well.
2. Rugged Barnwood Television Console Cabinet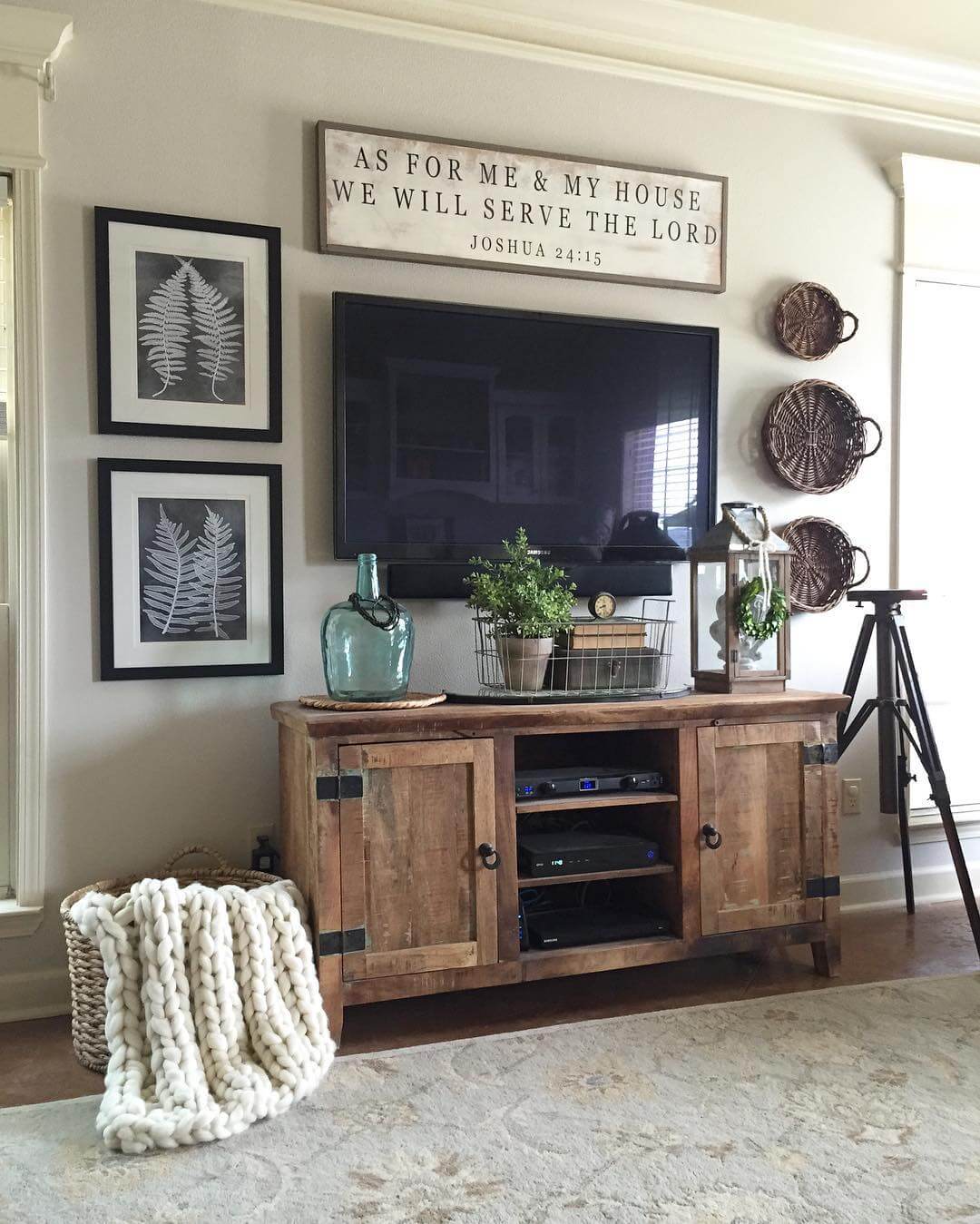 This beautiful farmhouse décor is not complete without the gray walls, light rug, and brown accents. The entertainment center is made from rustic, raw wood with barn style doors. The TV is mounted to the wall, giving storage space on top of the cabinet for a vintage basket, colored jar, and rustic lantern. The signs on the wall around the TV and the blanket basket on the floor only add to the warm feel of the room.
3. Boxwood Wreath and Recycled Window Display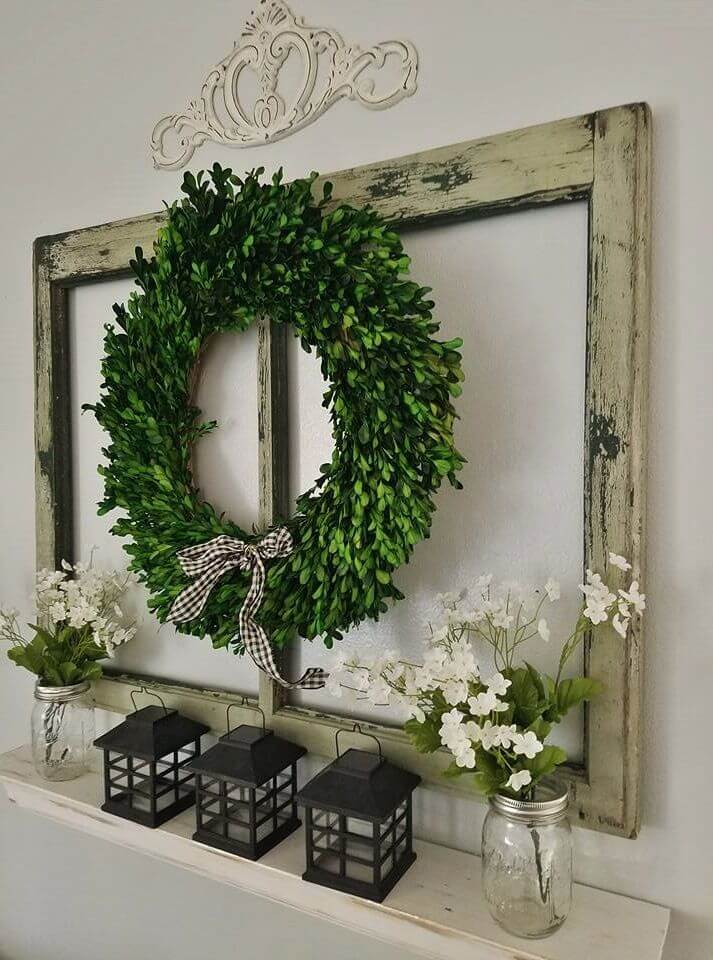 This simple décor is easily added to your living room to give it that coveted farmhouse feels. The vintage, distressed window is perfectly accented by the boxwood wreath and gingham bow. The shelf under the window is distressed as well, making it the perfect complement to the window. The iron lanterns and mason jar flower vases make the look complete.
4. Barnwood Chevron Accent Wall Decor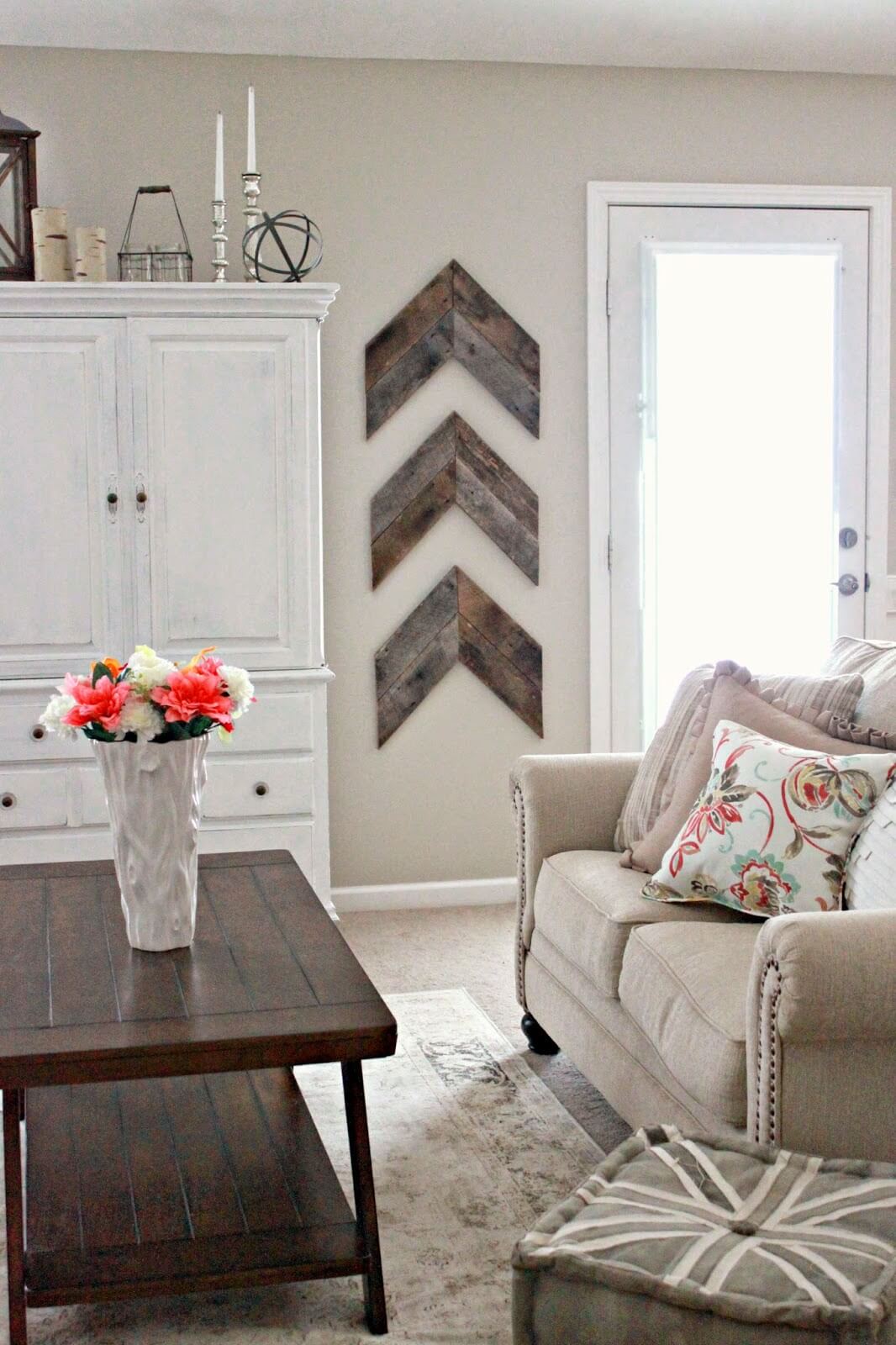 Coupled with the light couch, dark coffee table, and white entertainment cabinet, this accent wall is the perfect addition to any living room needing a touch of farmhouse flair. The chevron pattern is made from used barn wood that is cut to be angled in an arrow type way. The three separate arrows are hung at an equal distance from each other, creating somewhat of a chevron pattern for your wall.
5. Large Antique Steamer Trunk Coffee Table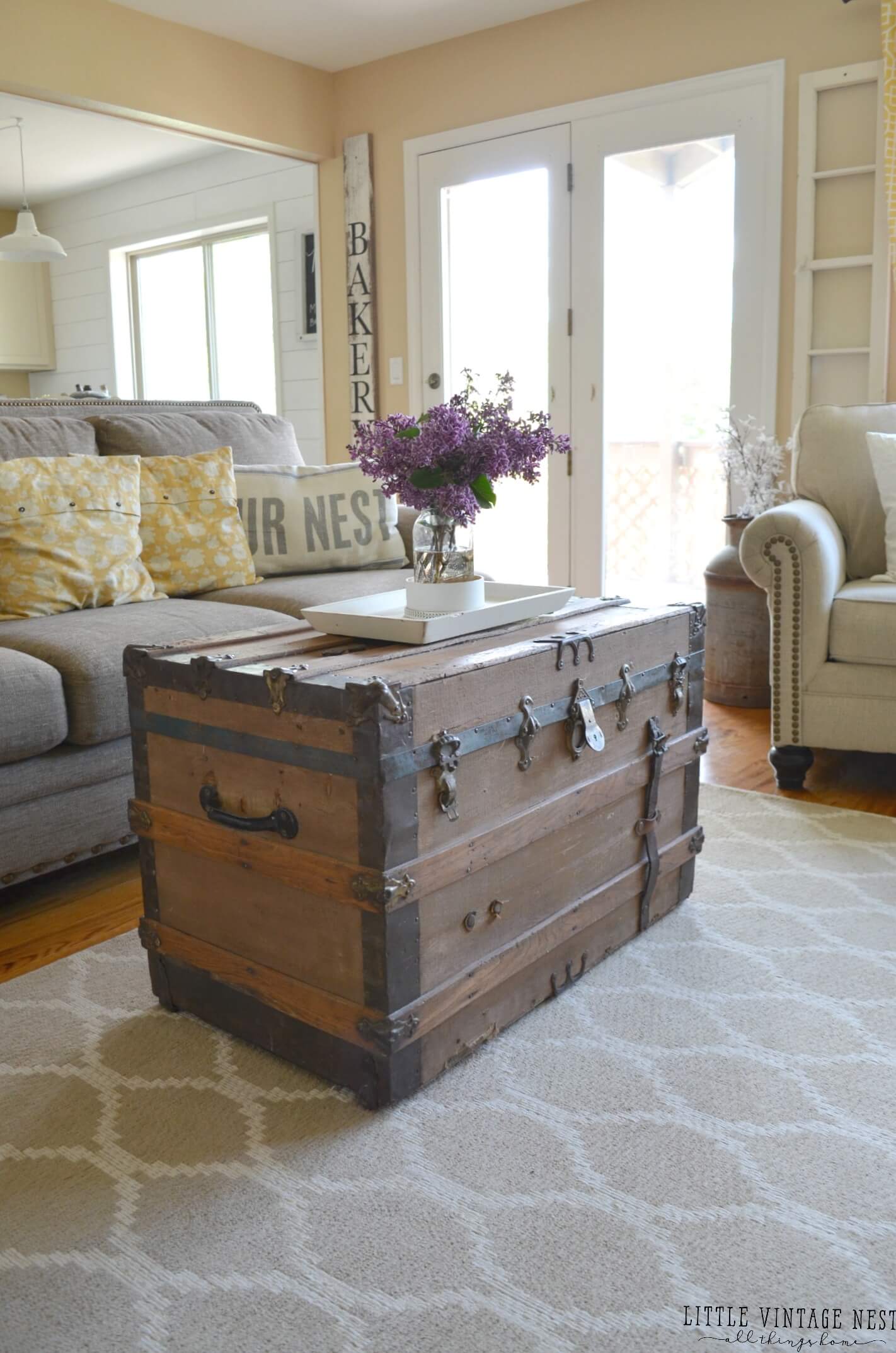 To amp up your farmhouse style home, try using this idea for your coffee table. Instead of a normal table, use an old steamer trunk as a coffee table. Add a small platter and a mason jar full of flowers to add to the aesthetic. Plus, your coffee table can double as a coffee table and a storage trunk to put blankets, pillows, or other things inside when they aren't being used. Set the trunk atop a light rug to make it pop off the floor.
6. Tufted White Couch and French Linen Pillow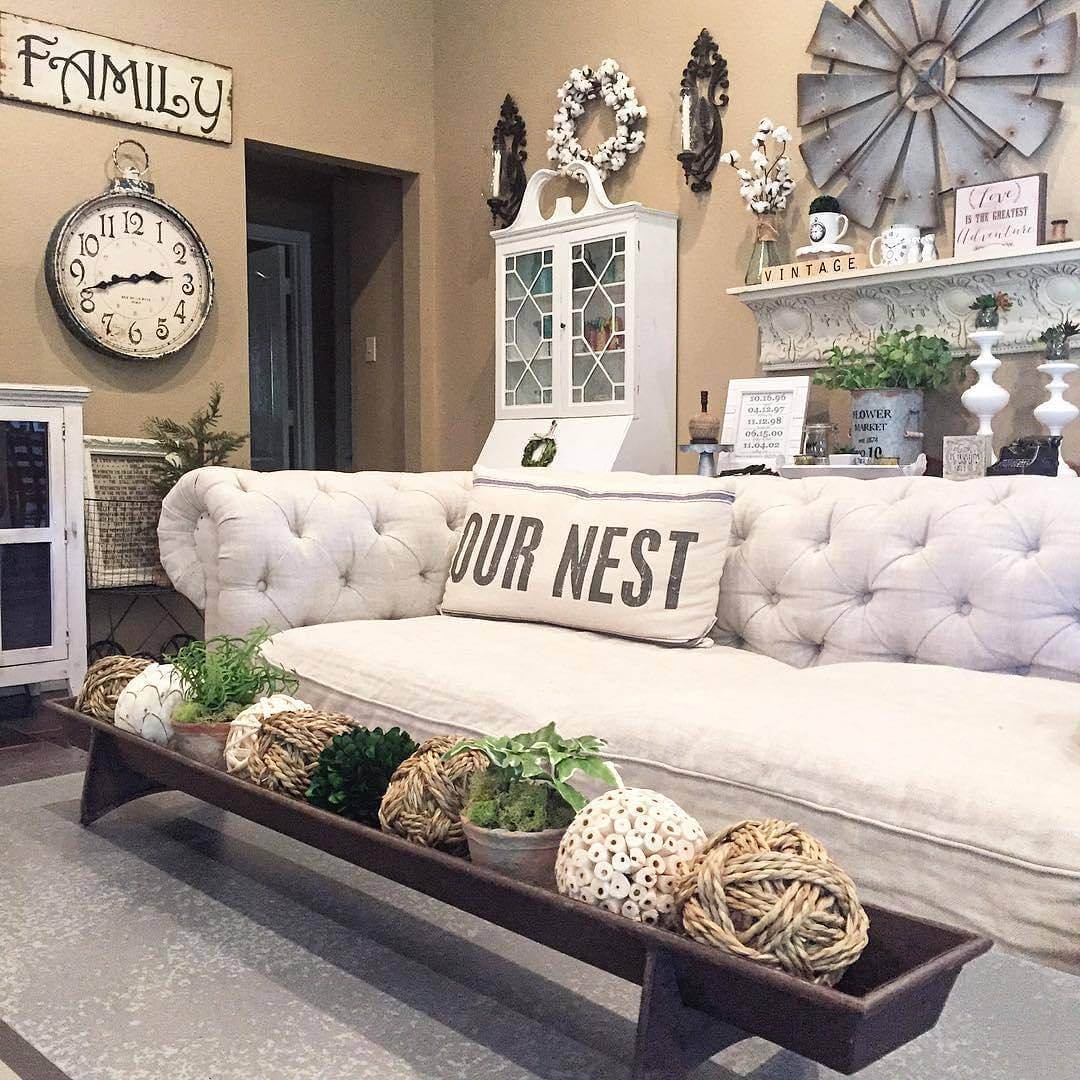 This vintage living room idea is perfect for your farmhouse home. This white tufted couch is the perfect compliment to the rustic décor. The wood basket full of green plants, twine balls, and more is beautiful against the light colors. The pillow on the couch works well with the entire room, tying in that farmhouse feel that more people are looking for today. The tin windmill type hanging on the wall works well with the giant clock, distress cabinet, green plants throughout the room.
7. Wooden Shelf for Farmhouse Living Room Designs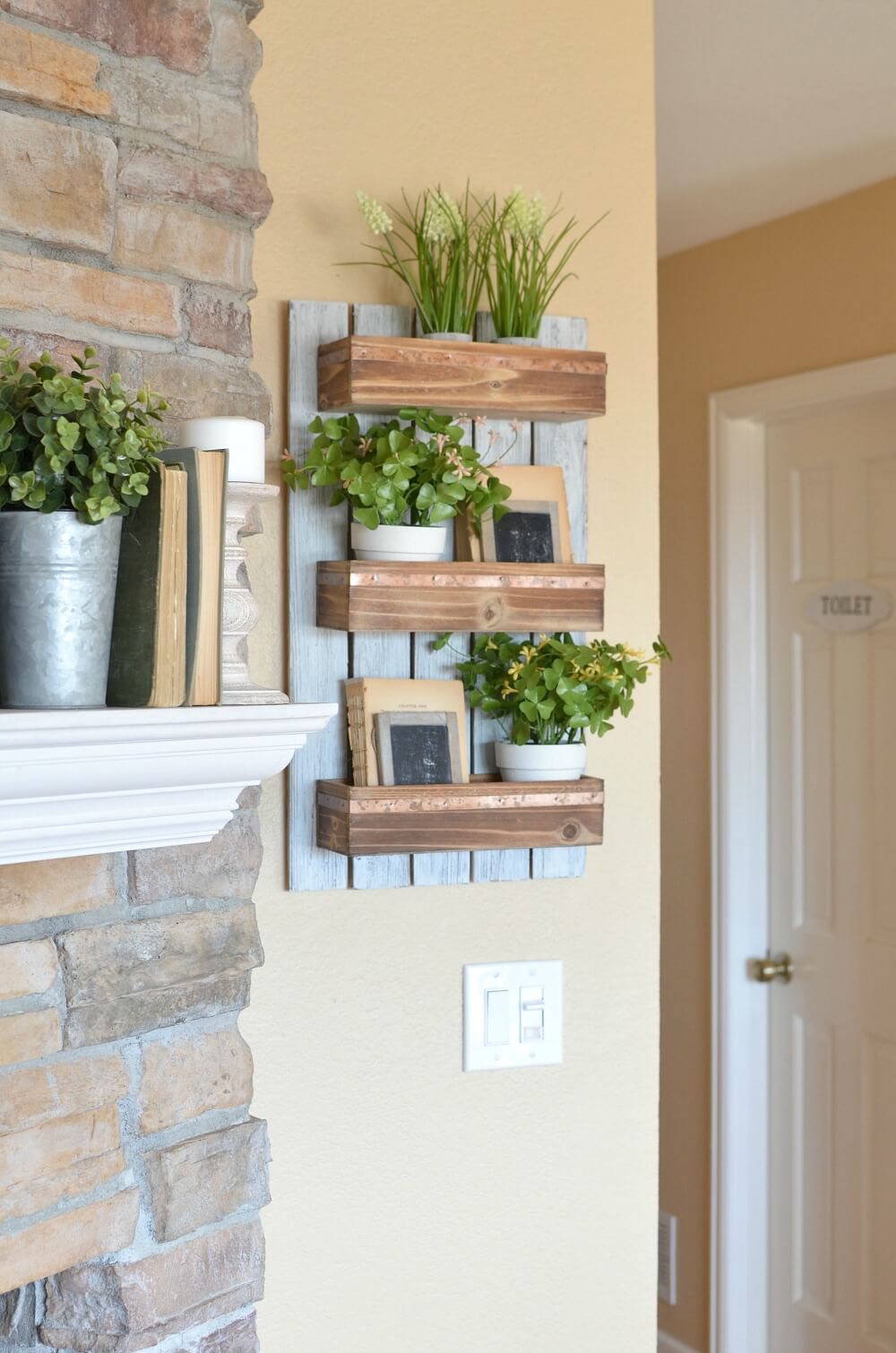 Perfect for the entryway to your living room, this wooden hanging shelf is perfect for storing books, plants, and more. The white wooden planks running vertically are ideal for making the raw wood shelves stand out on your wall. Use small, green plant, pictures, or books like shown in the photo to put on the shelf and bring color to your rustic living room.
8. Wooden Box and Painted Mason Jar Centerpiece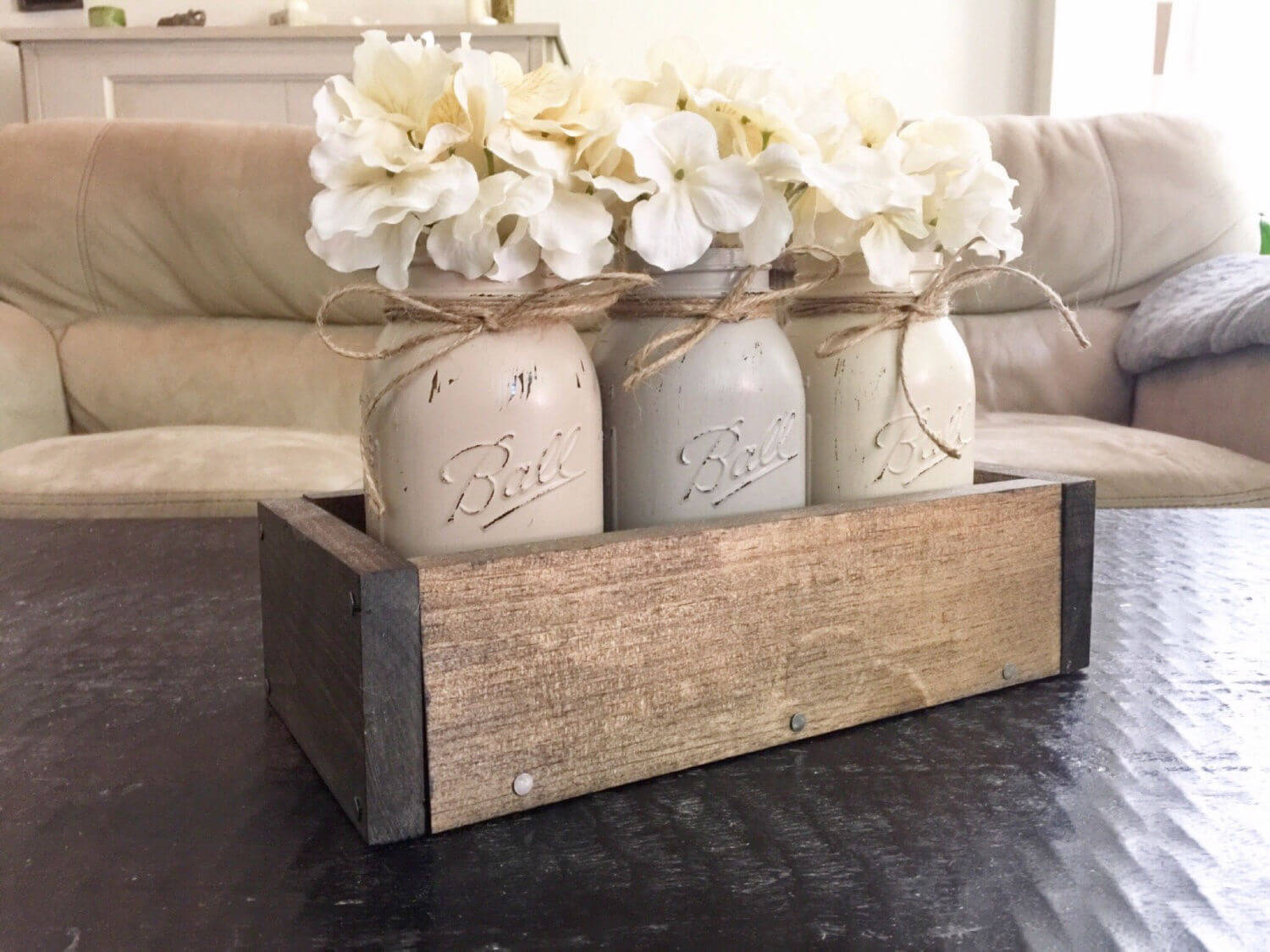 If you need something to put on your coffee table to tie that rustic, farmhouse feel, this idea is perfect. The painted mason jars are great for white flower vases. When tied up with brown twine and placed in the wooden storage box, these flower vases are perfect for any farmhouse living room. Set the entire box on your coffee table for a simple, yet elegant décor idea.
9. Antique Wooden Ladder Photo Display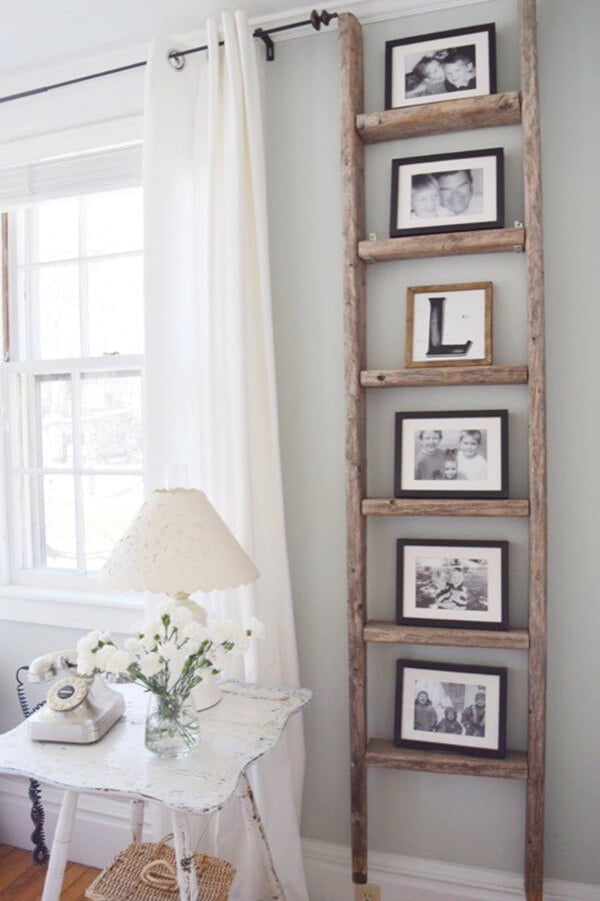 A great way to store and display your favorite photos in your living room is with a ladder display. This shelf, made from a vintage ladder, is the perfect addition to any rustic or farmhouse living room. Each pane is equally spaced, giving you plenty of room to display your photos for everyone to see. The best way to hang it is to use L-brackets to bold it to the wall so it can't be pulled over. Add black and white photos for a great complementing look.
10. Shabby Chic Coffee Table with Rustic Accessories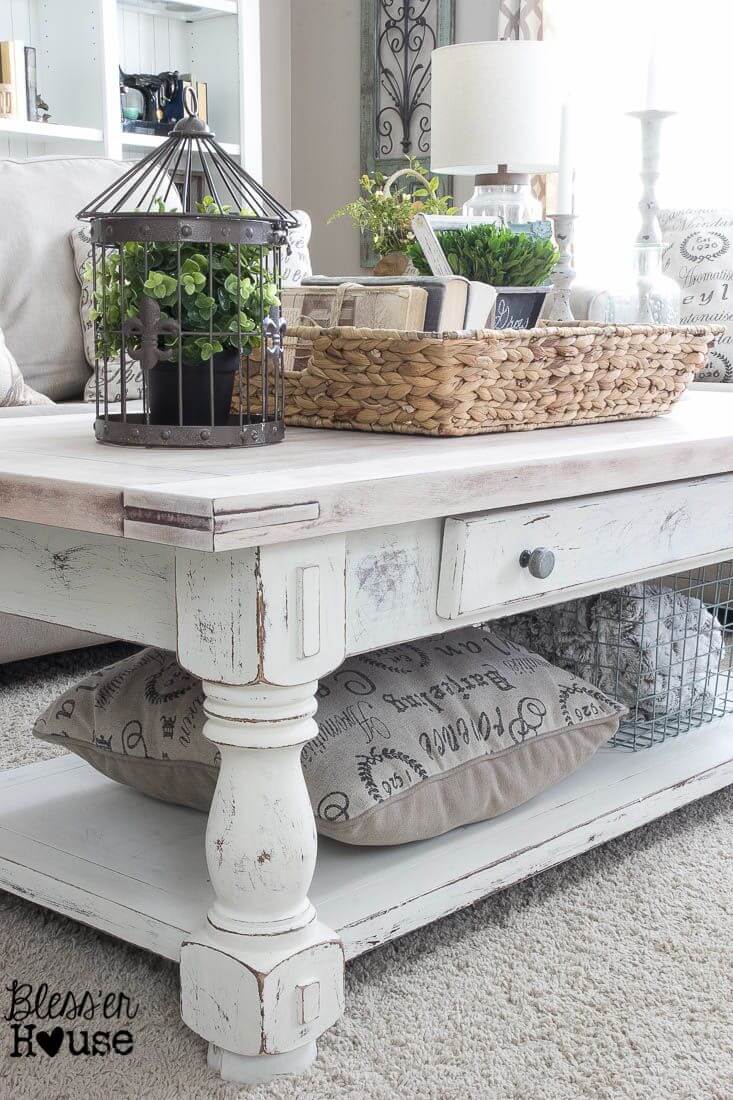 This distressed coffee table is the perfect addition to your rustic living room. The white hue is bright and inviting, but the basket and metal birdcage are great complements to display on the top of the coffee table. Put books, a chalkboard, and a green plant in the basket for decoration, and add a green plant inside the birdcage for a new aesthetic in your living room. You can even store a metal basket and throw pillow under the table for more decoration.
11. Pale Mint Coffee Table with Internal Storage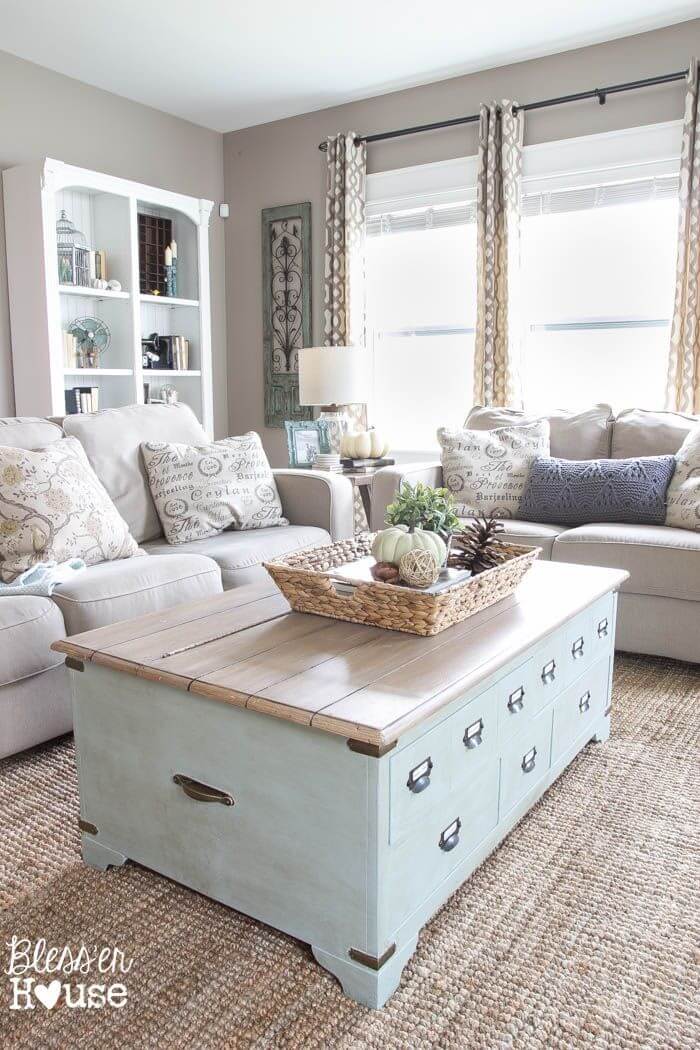 Sometimes you just need a pop of color in your farmhouse living room. This coffee table provides a small splash of color in mint green to complement the gray, tan, and white hues in the room. The light wood top on this table is the perfect addition to the room, and the internal storage is great for keeping things stored away and neat. Add a basket with a plant, pine cone, or twine ball inside for more decoration.
12. Recycled Rustic Barnwood Accent Wall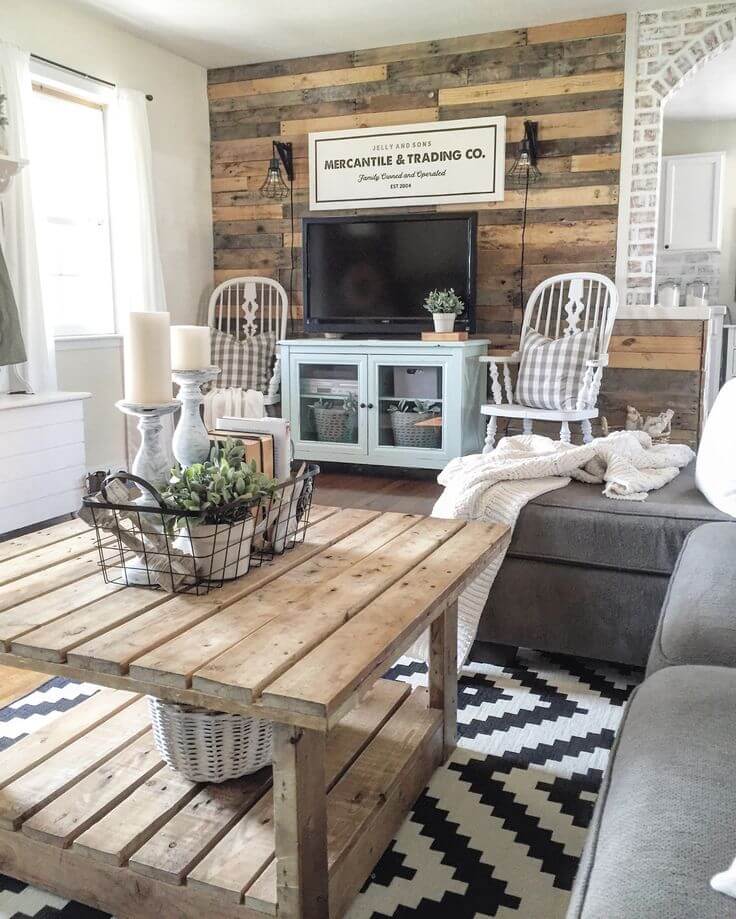 If you like accent walls, this rustic shiplap wall is a great idea for your living room. Use reclaimed barn wood to cover the wall with various patterns and colors. This is also a great wall idea for use behind your TV or fireplace. Add pops of color in the form of furniture or signs, and use rustic, iron lantern lights to the wall for a farmhouse flair.
13. Autumnal Pumpkin End Table Display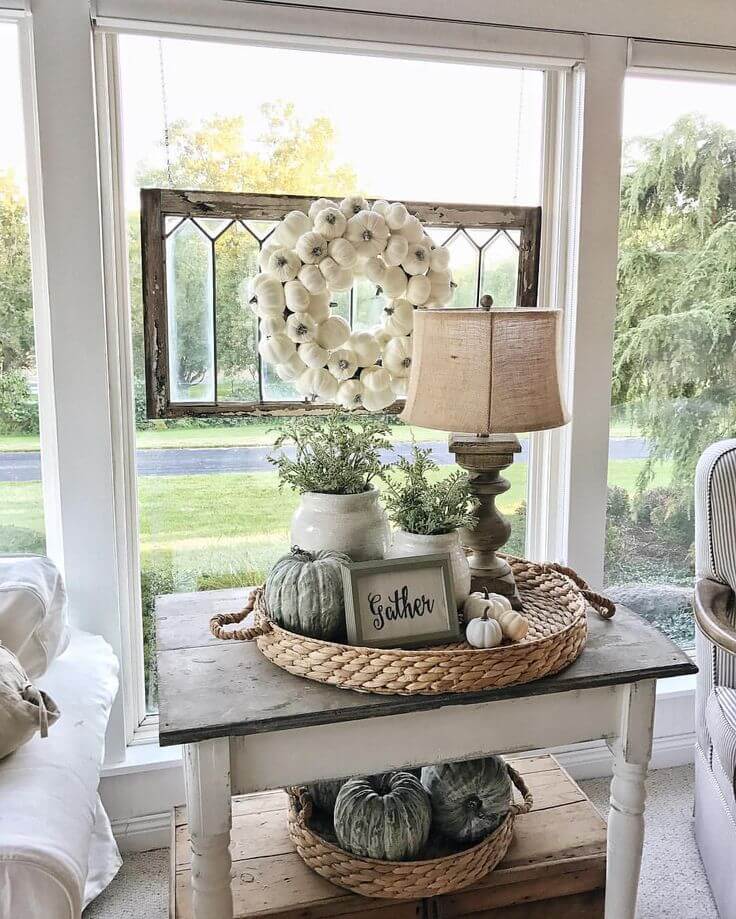 For the autumn season, you can create a farmhouse feel in your living room without giving up your beautiful whites, grays, and greens. Add a few baskets to your side table. Put in white and light green gourds and green plants in white jars. Add a sign that matches your lamp and hang a wreath for a great autumn look that is simple and rustic at the same time.
14. Neutral Farmhouse Living Room Decor Ideas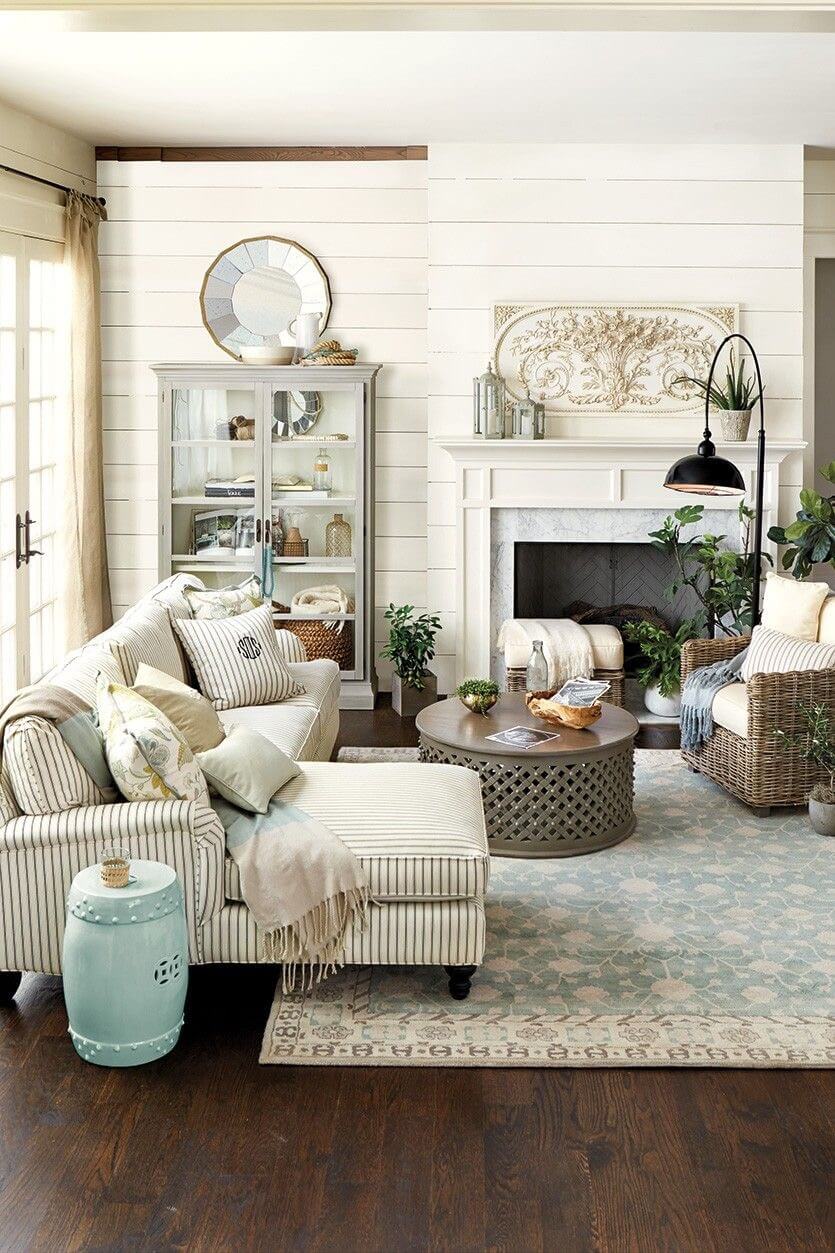 This living room idea consists of several great features like the striped couch, the white shiplap wall, the white chair, and the round coffee table. You can complement this room with an open face, rustic cabinet full of beautiful glass bottles or other items. Add several lamps, throw pillows, and afghans for a warm and inviting feel. A great way to add some color to the room is by adding a few green plants around.
15. Cozy Armchair and a Corner Quilt Display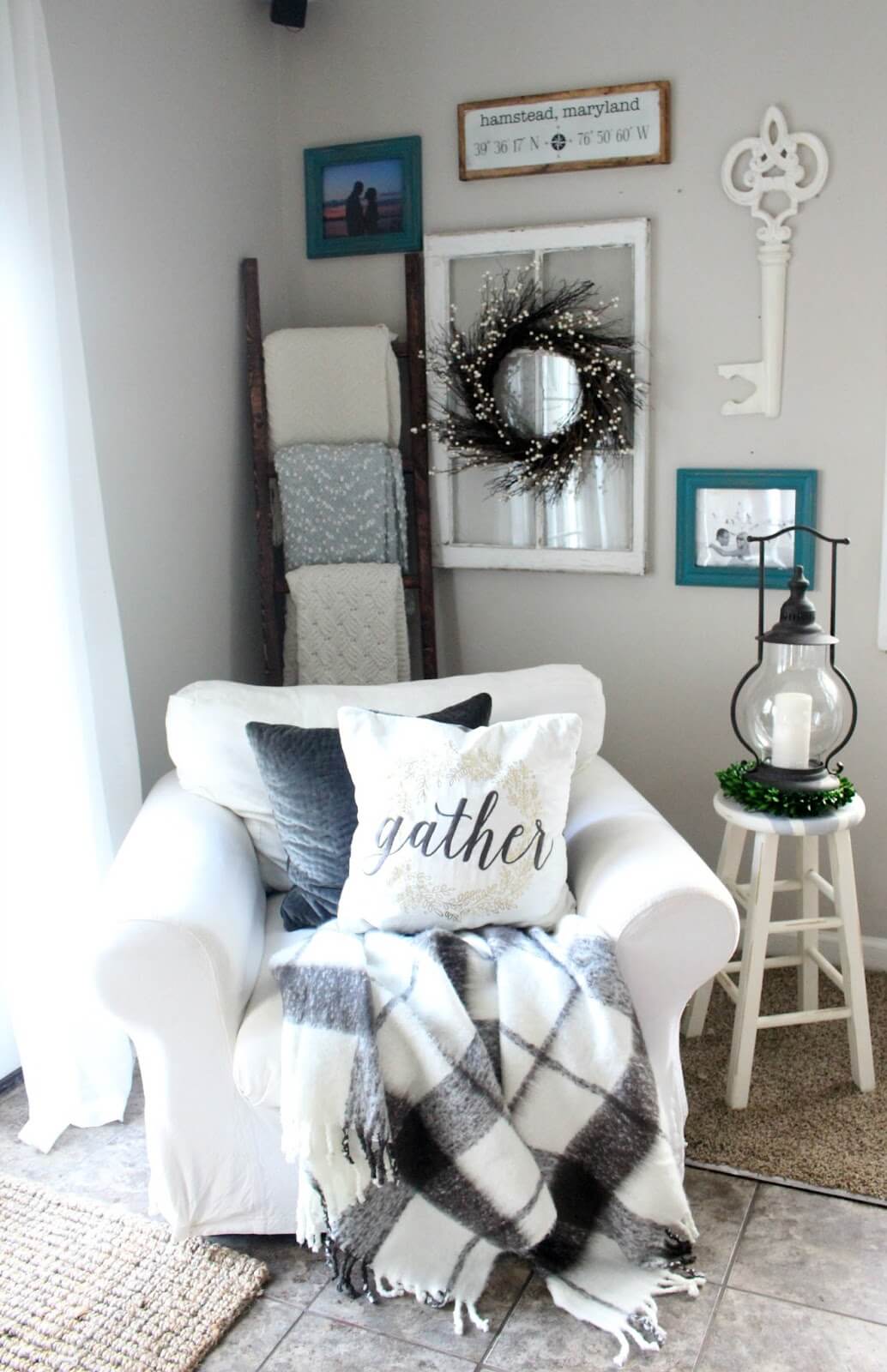 Everyone loves a good, cozy armchair in their living room. You can achieve this by getting a white or light cover for your armchair, adding a few throw pillows, and warm blanket. Add a ladder blanket rack behind the chair, a stool table with a lamp, and a few hanging items on the wall for a warm feel to the room. You can even add a cozy rug in front of the chair as a place to set the feet while sitting in the plush chair.
17. Wooden Table with Painted Milk Jug Base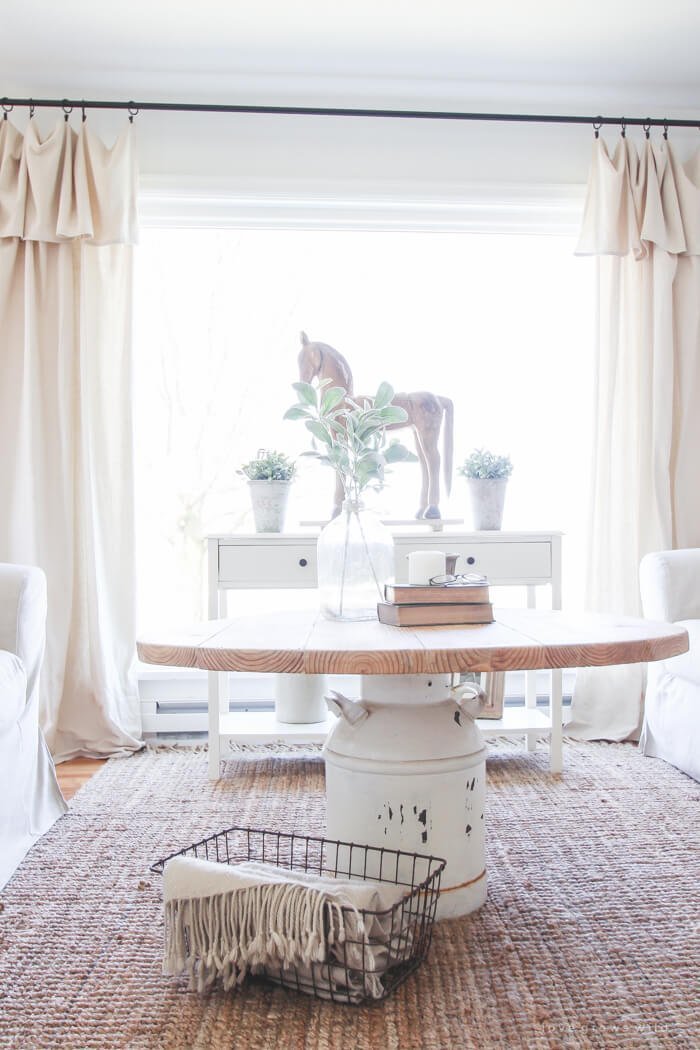 This unique table is perfect for your farmhouse living room. Made from a painting vintage milk jug, this wooden table is a great complement to the farmhouse style. The table top is round, perfect for smaller living rooms. Add a glass jar with greenery inside and some books to create decorations on top. You can even make this table warmer by adding a rug underneath and a wire basket full of blankets.
18. Sweetly Intimate Primitive Livingroom Furniture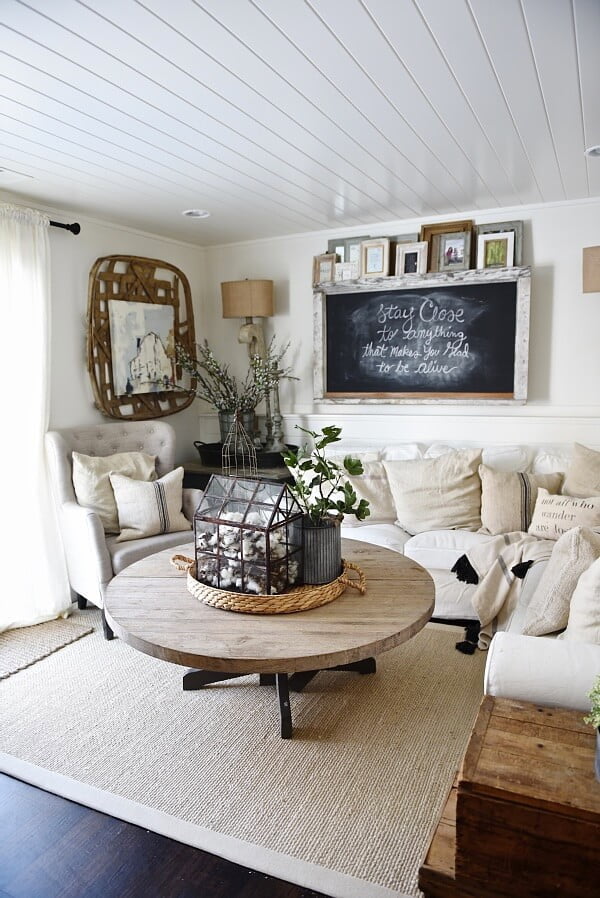 This living room is a great option for smaller living. The plush couch is a great complement to the dark wooden flooring. The light rug and round coffee table make the room feel larger but cozy at the same time. Add a few green plants, a chalkboard, and some metal vases to create a vintage farmhouse feel right in your living room.
19. Coastal Design Inspired Farmhouse Sun Room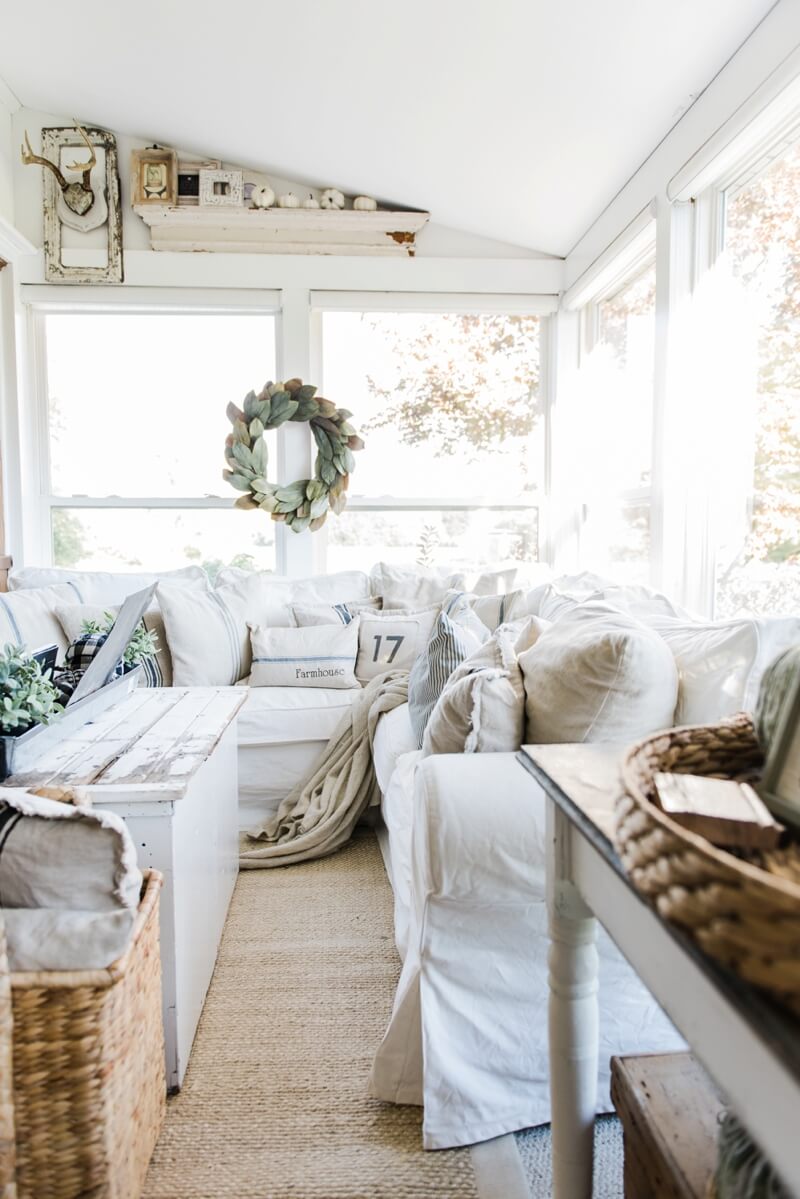 Even if you live on the coast, you can get that beautiful farmhouse look in your home. Using whites, blues, and light greens, you can make your living room pop. Add a green wreath over your plush couch with throw pillows in various styles. You can have a reclaimed barn wood coffee table for storage as well. Add a few baskets full of things you love to make it personal and unique as well.
20. Microfiber Couch Farmhouse Living Room Decor Ideas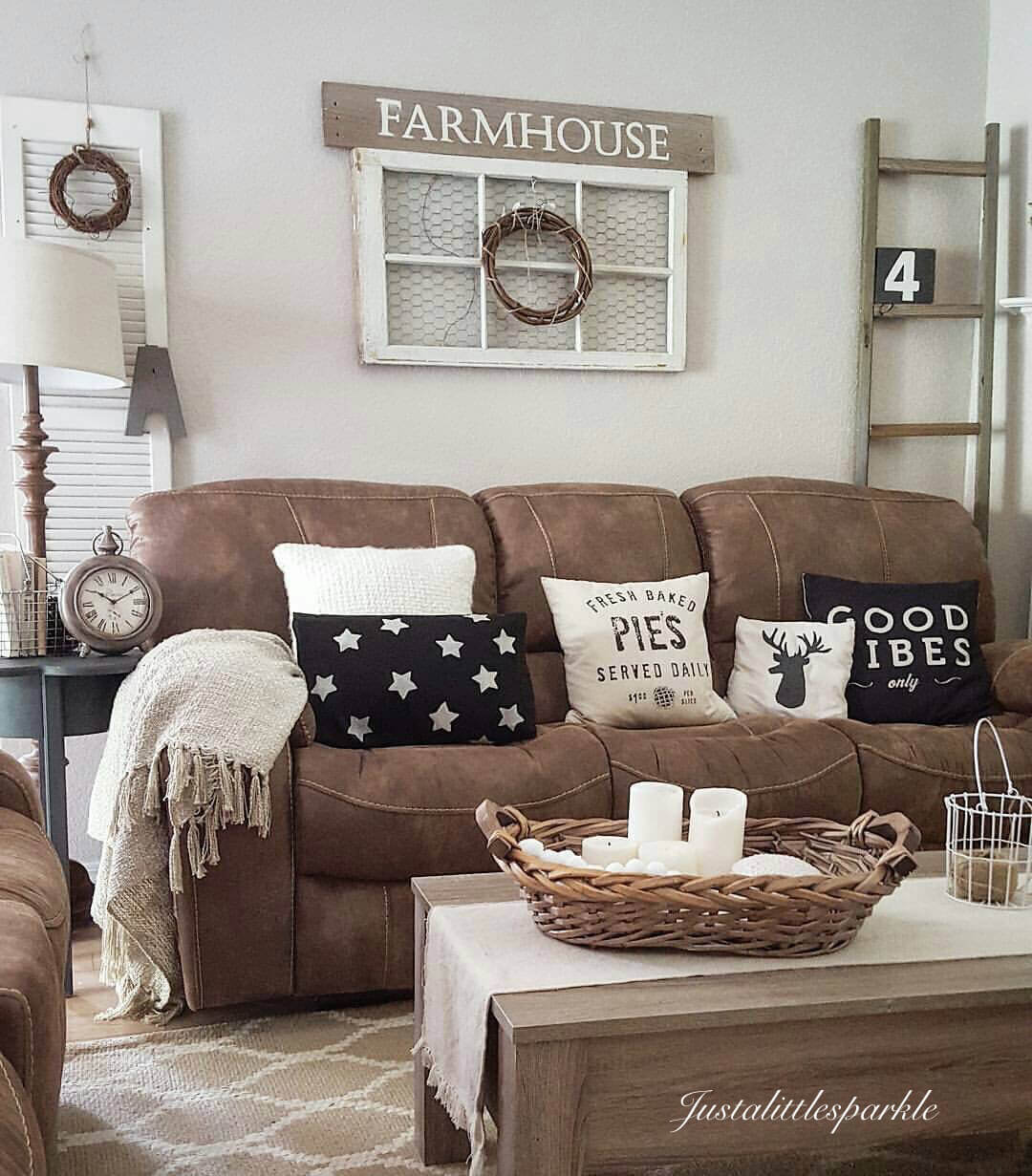 Sometimes you need a darker couch in your living room, especially if you have kids and pets. This dark brown couch looks great within the light gray living room walls. Add a matching coffee table, a few baskets from wicker or wire, and hang an old chicken wire door on your wall. You can even add colorful throw pillows and a ladder shelf to add texture.
21. Cozy Slipcover Couch with Knit Pillows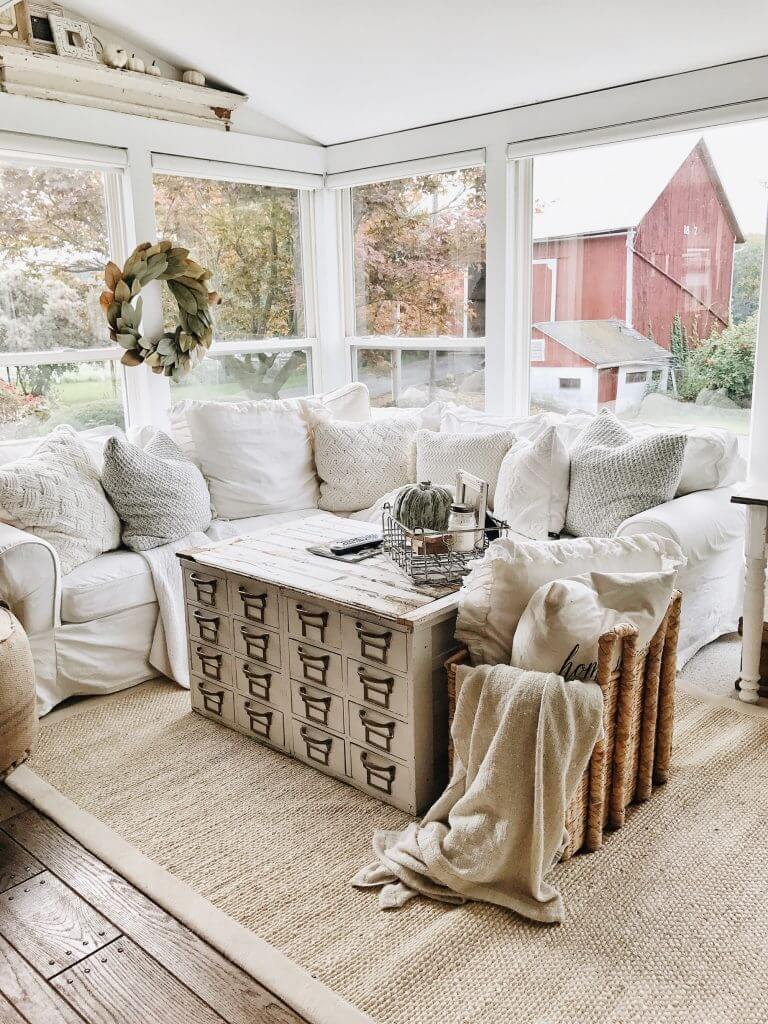 A great way to upscale your couch to get that farmhouse feel is to purchase a cozy slipcover. This couch looks great with the burlap rug, fluffy throw pillows, and other touches. Add a great storage coffee table, topping it with a wire basket full of candles, green gourds, and photos. You can even add a large basket full of extra pillows and afghans for added warmth to the room.
22. Light and Feminine Country Fireplace Display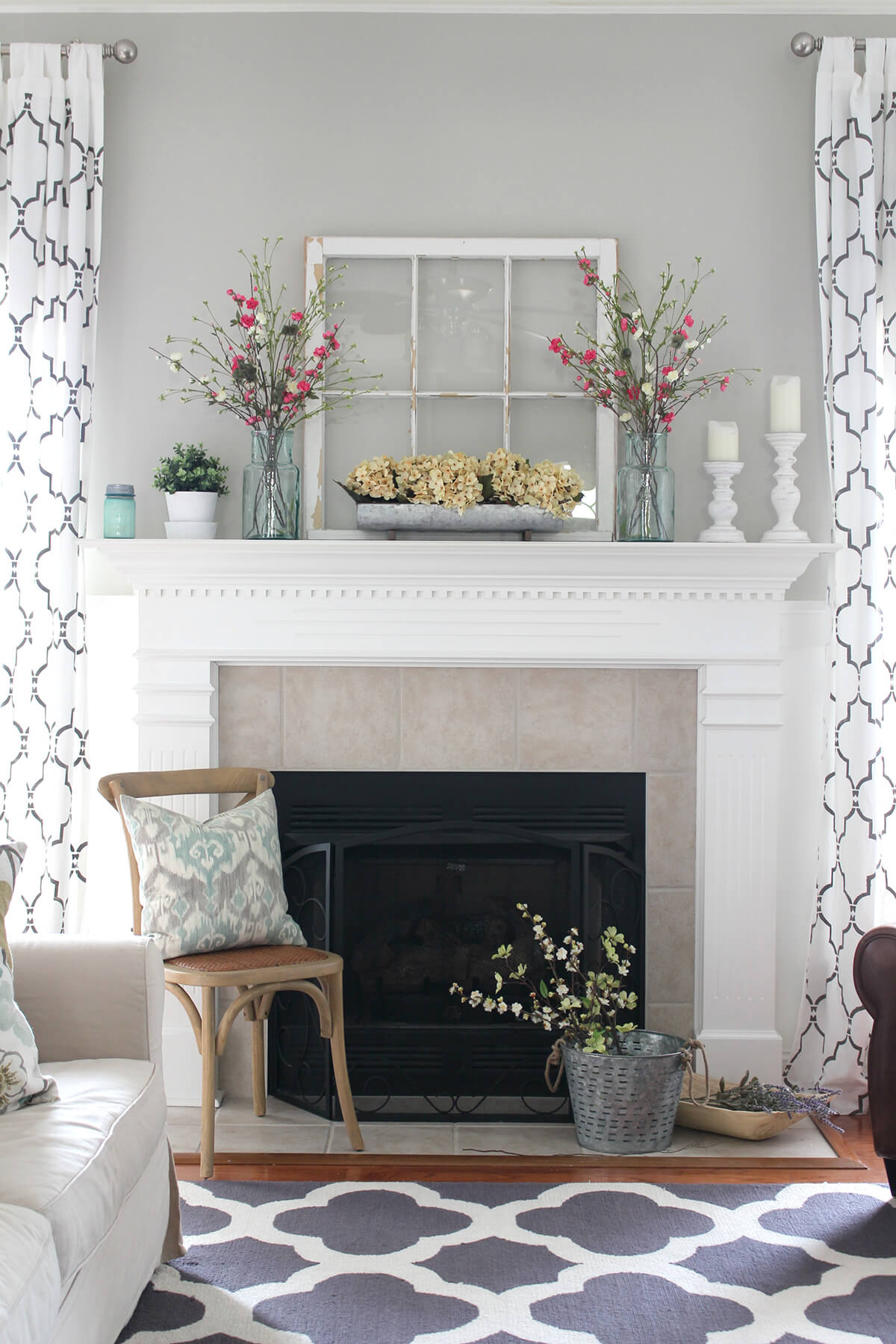 A great mix of modern and farmhouse, this look is sleek and rustic at the same time. Add a colorful rug to the wood flooring, and place a rustic window above the fireplace. Add a few candles, a plant, a metal basket with flowers, and two colored glass vases full of pink and white flowers for a feminine touch to the room.
23. Rustic Painted Wooden Farmhouse Kitchen Sign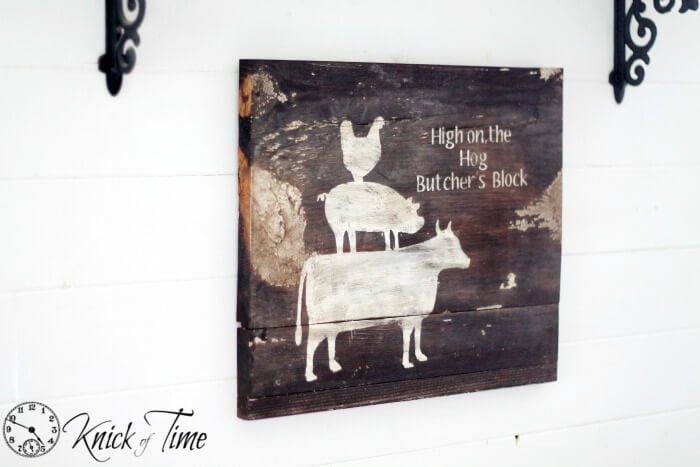 If you want to create a simple farmhouse flair in your home without spending too much, you could always look for a great vintage sign. This farmhouse sign is made from reclaimed barn wood, and it looks old. The white painting of the cow, pig, and chicken is great for the area between the living room and kitchen. It is small enough to be subtle but still give you that hint of farmhouse you want.
24. Primitive Deer Antler Centerpiece Basket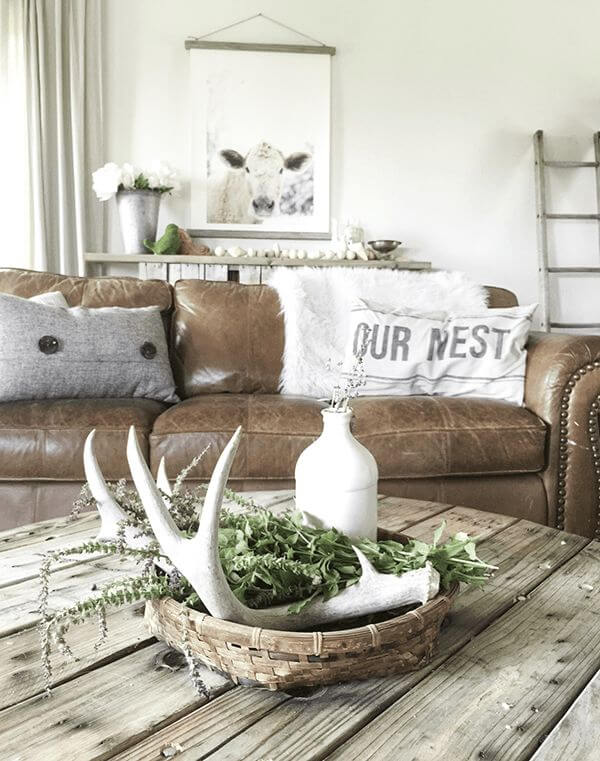 If you need a great centerpiece for your coffee table, you can try this simple option that will bring your living room to life. Grab a small basket that has that vintage feel. Grab a few painted or plain deer antlers, either ceramic or real ones, top them with some greenery, and add a white bottle beside them. Put a few sprigs of the greenery in the bottle to tie it all together.
25. Dining Room Edison Bulb Pendulum Light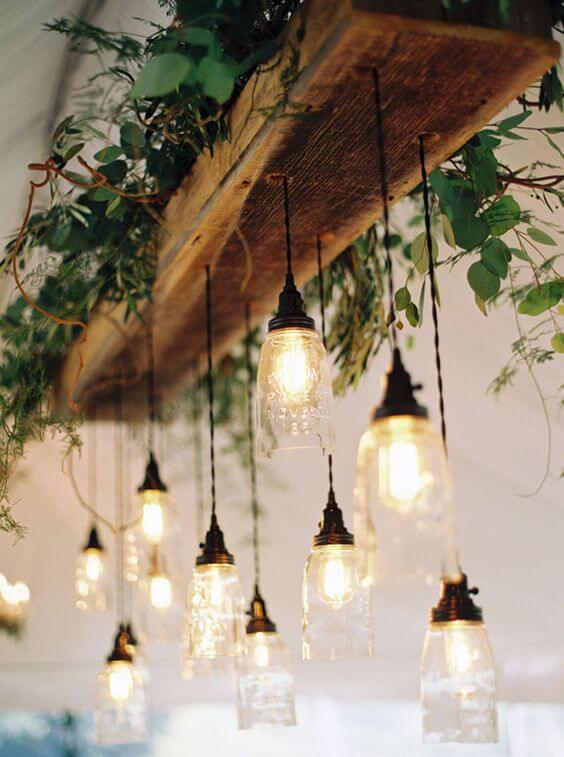 The Edison bulbs are a huge thing nowadays. You can create a beautiful pendulum light in any room of your home by grabbing a few of the Edison bulbs from the store. Hang them between a few holes in a wooden beam, and top the wooden beam with various sprigs of greenery to give it that farmhouse feel. You can use this in the living room, dining room, or kitchen.
26. Relaxed Livingroom with Folksy Display Hutch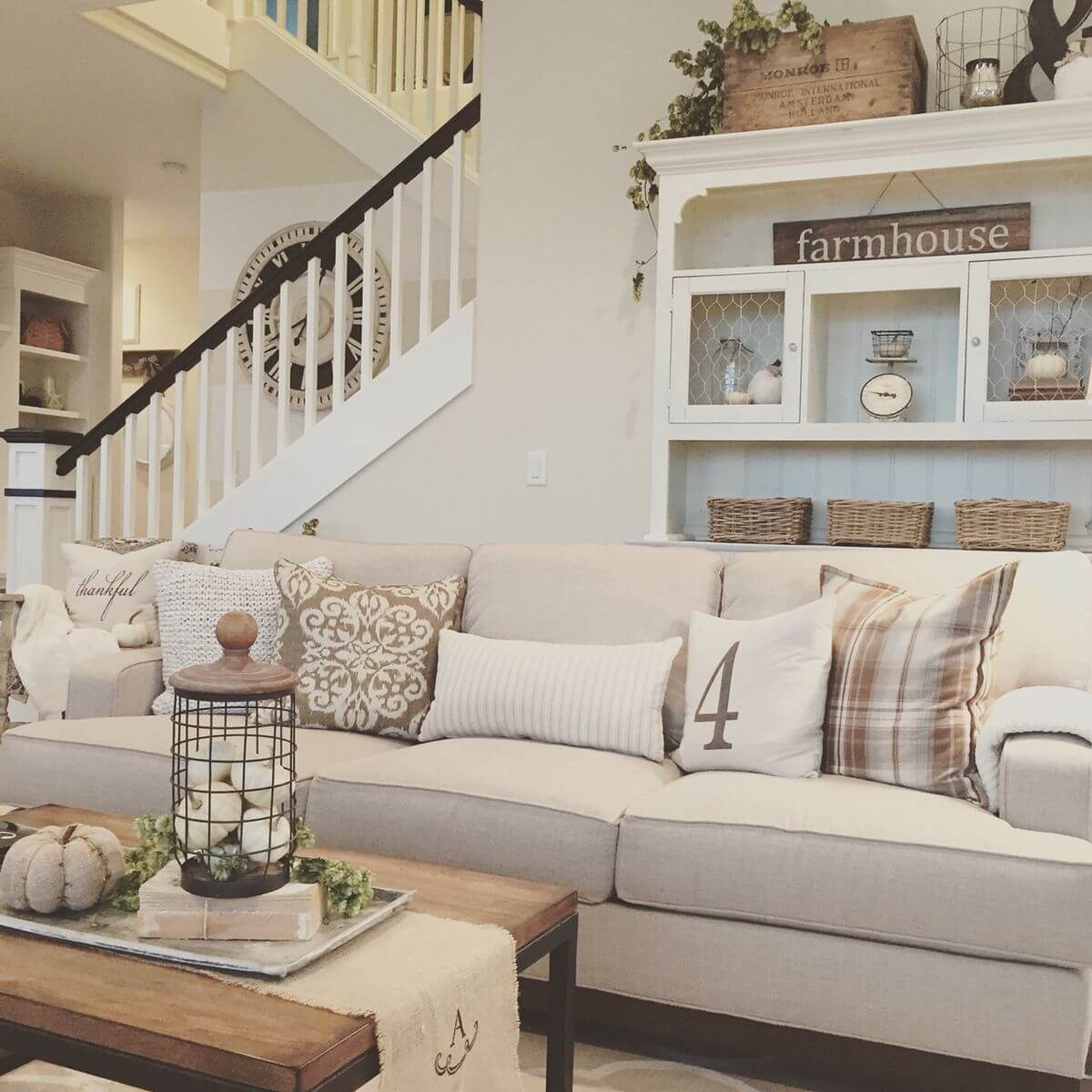 This smaller living room idea is so cozy and warm that you will love it. The plush couch is made even more cozy with the added throw pillows in various colors and patterns. The coffee table is decorated with a burlap runner, wire lantern, books, and burlap pumpkin on a small tray. The hutch behind the couch is distressed with chicken wire on the doors, baskets, and various other trinkets to create that farmhouse style.
27. Simple Chalkboard Living Room Wall Art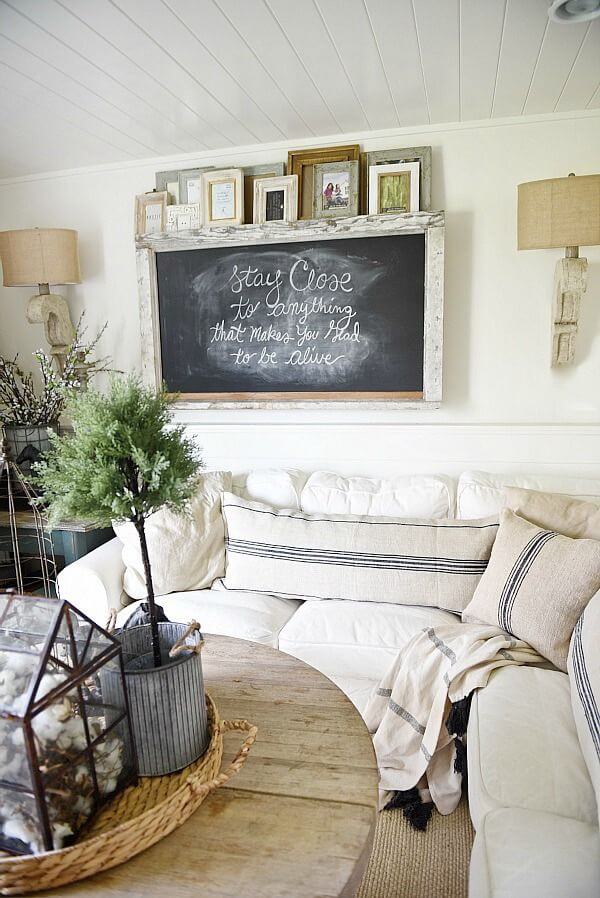 Sometimes, all you need is a little chalkboard to give your room a beautiful rustic look. You can create your own chalkboard by grabbing a vintage frame, painting, and distressing it. Use the glass and paint over it using chalkboard paint. You can use chalk sticks or a chalk marker to make your own sign or have your family write notes to make it more personal.
28. Springtime French Country Seating Area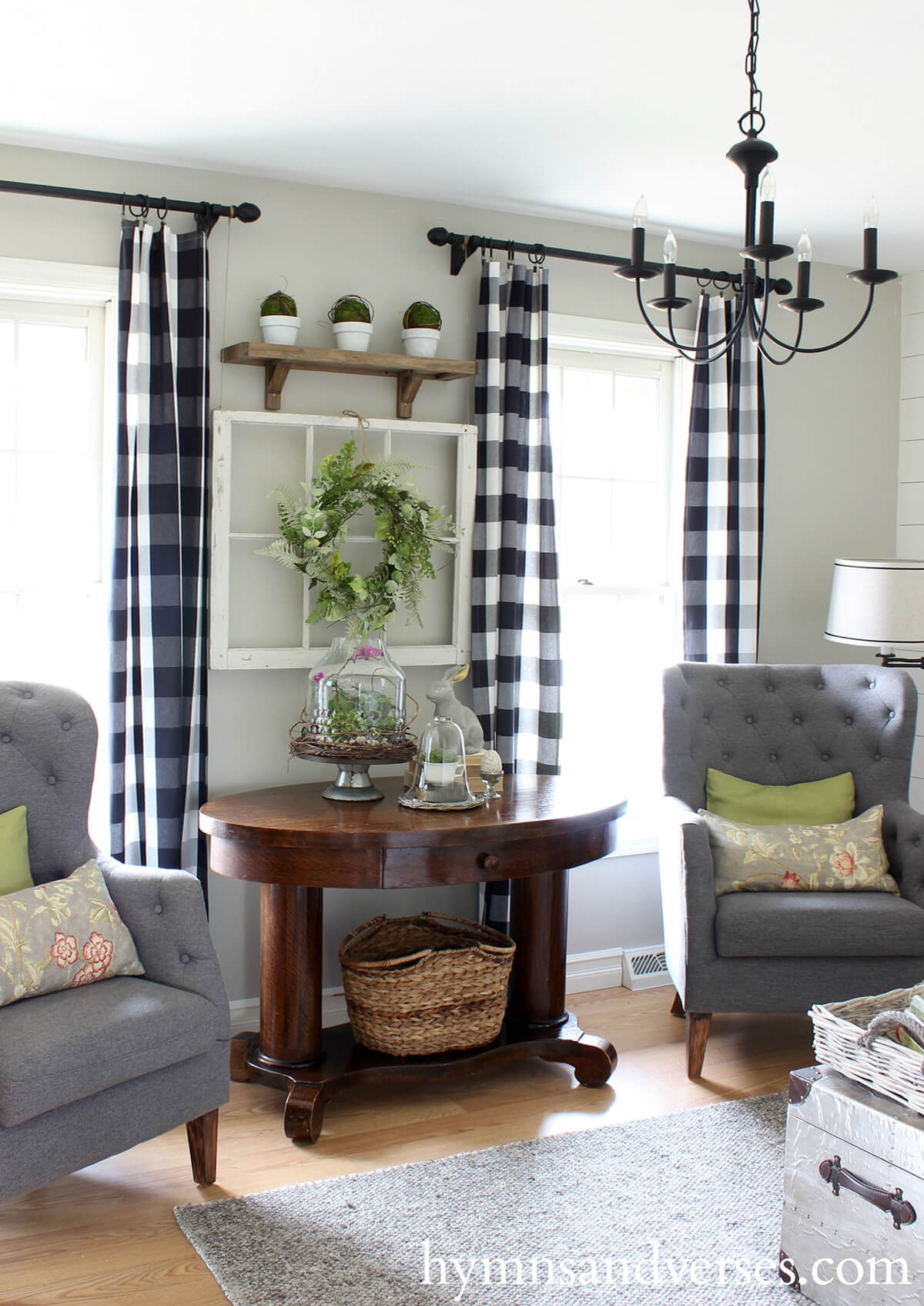 Farmhouse doesn't always mean just white, tan, and light grey. It can also mean dark blue, dark grey, and more. Get a great look for your living room by adding two dark grey chairs, some colorful throw pillows, and black and white gingham curtain panels to your windows. Add a vintage window and a green wreath to add more dimension and color.
29. Lilac Flower Centerpiece in a Tin Bucket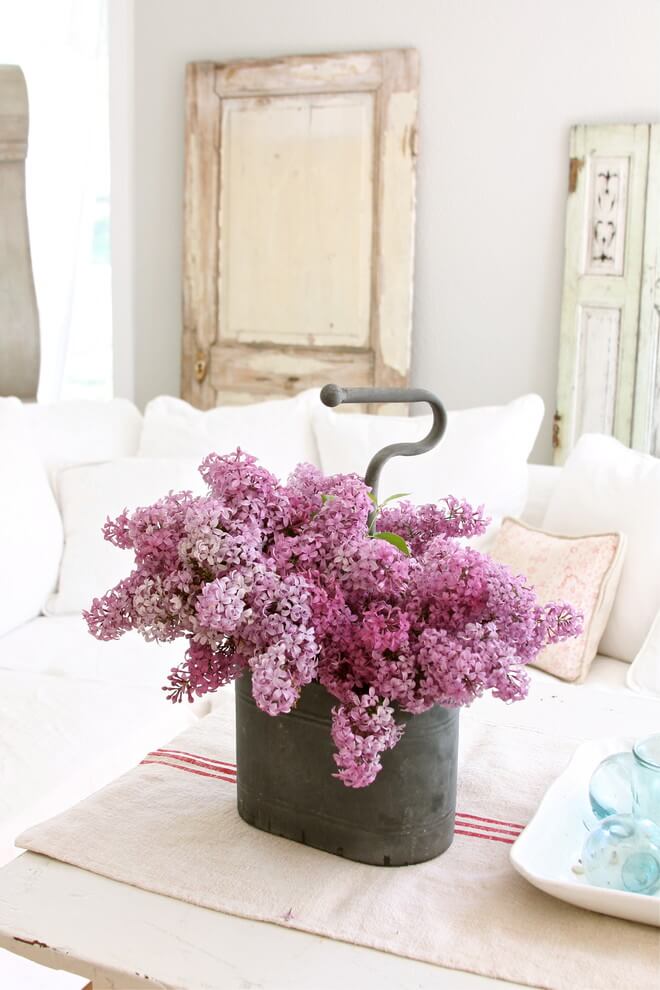 You can create a beautiful centerpiece for your coffee table during the spring season by simply filling a tin bucket. Add a few colorful flowers, or flowers of all the same color to make them pop in your room. Set the bucket in the center of your coffee table to make your centerpiece the highlight of the room.
30. Wood Framed Family Photo Display Corner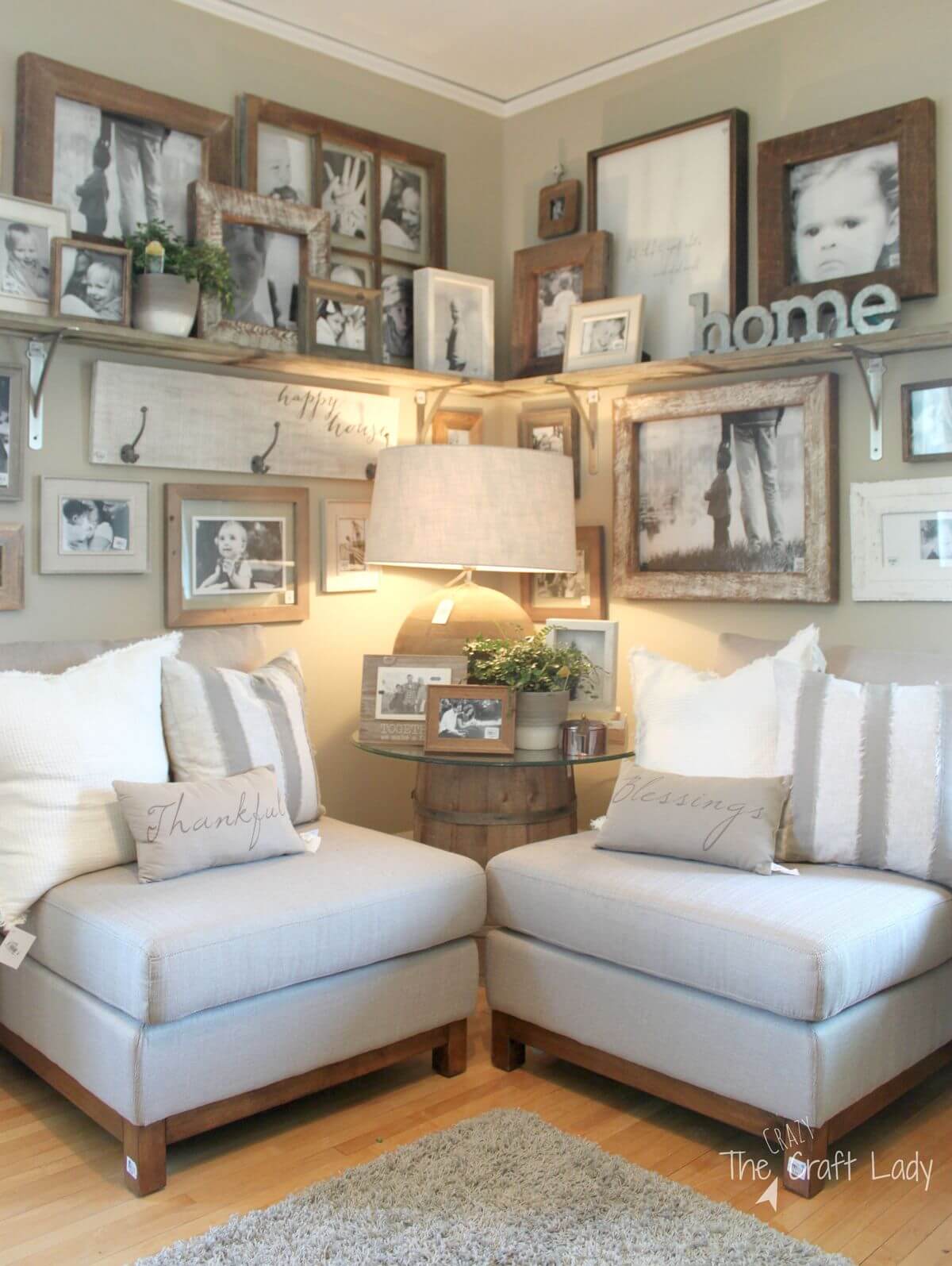 Another easy way to add a farmhouse flair to your living room is by changing your picture frames. Find great wooden frames of various kinds: dark, light, raw, reclaimed, distressed. The more you mix up the frames, the better it will look. Make your photos colored or black and white to create a unique collage of photos in the corner of your room.
31. Elegant Provincial Country Fireplace Mantle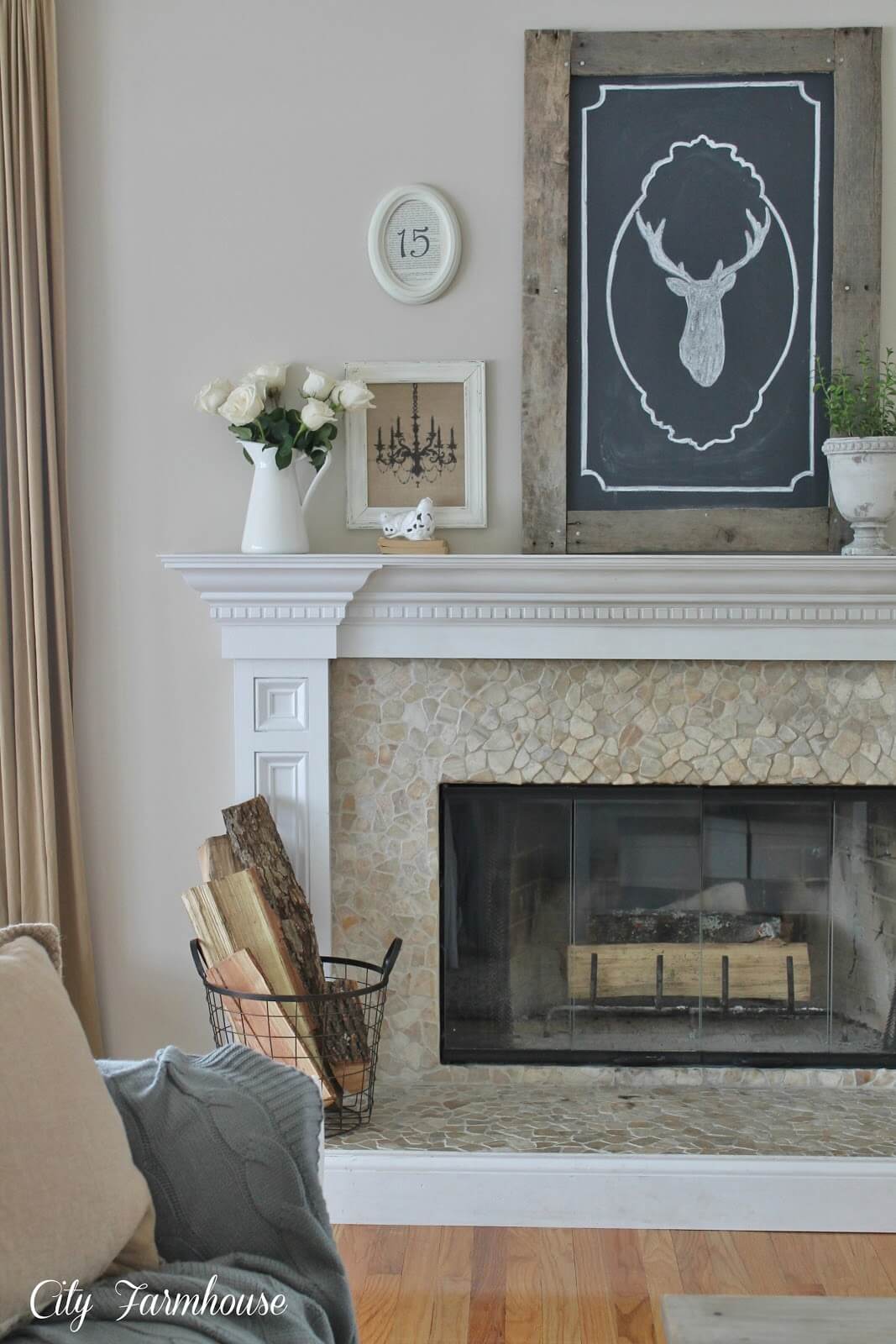 Country elegance is what you get when you add this stuff to your fireplace mantel. The chalkboard sign with the rough wooden framing looks amazing above the modern and sleek design of the fireplace mantel. Add a white, vintage water can full of flowers, a wire basket full of firewood, and a few other small items to add dimension without crowding it.
32. Homey Cottage Style Living Room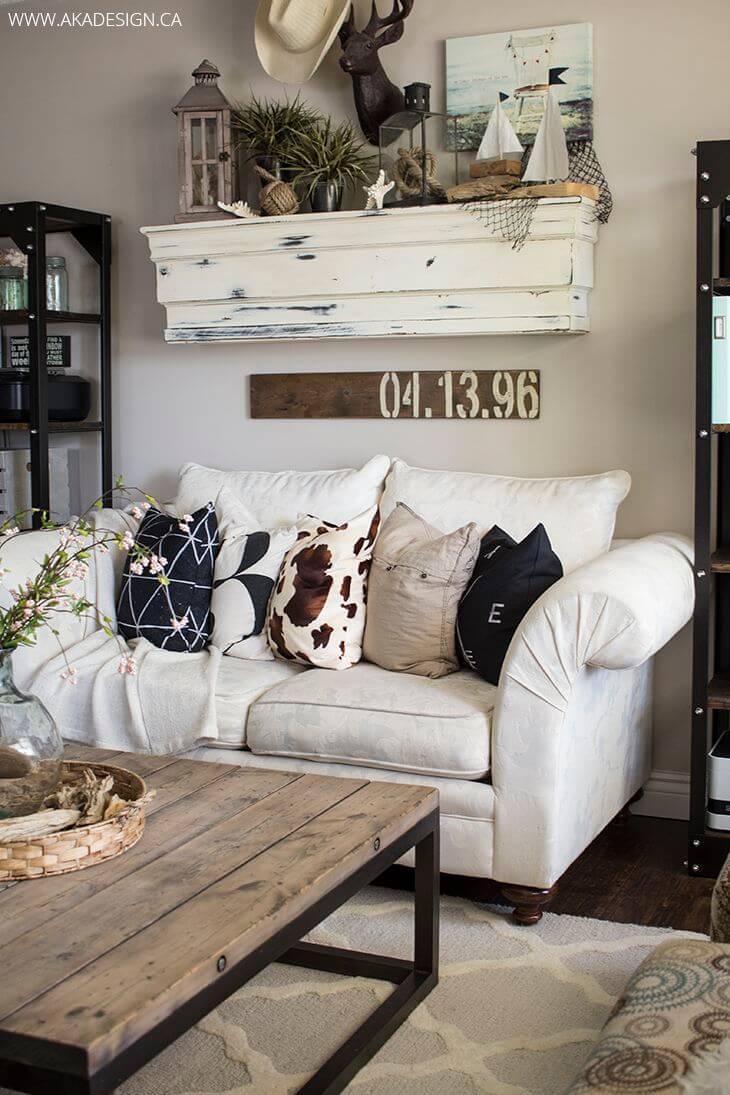 If you love the country look of the farmhouse, you can try adding several colorful throw pillows, a basket full of flowers and antlers on your coffee table, and maybe even a cowboy hat hanging from a ceramic deer head. Add a few other touches like wooden signs and lanterns to a shelf, and you've got a great country living room.
33. Rustic Wooden Coffee Table and Platter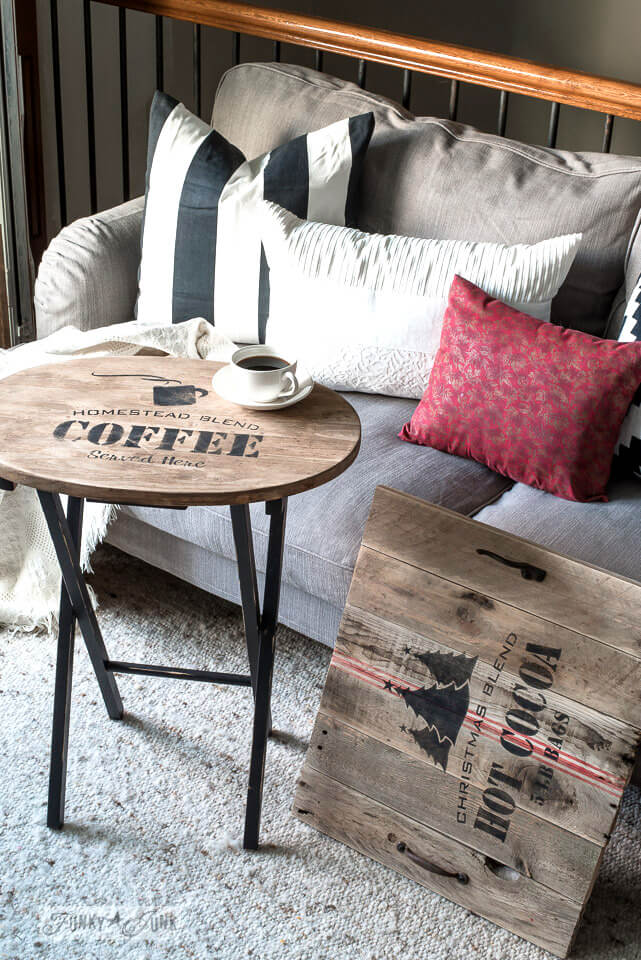 If you love coffee and hot chocolate, you can take your love from the old barrel and crate tops to create new pieces for your living room. If you can't find any, paint them yourself using stencils and acrylic paint. Add handles to a square piece for a lap desk, and add legs to a round piece for a great side table.
34. Polished Country Living Room with Tufted Seating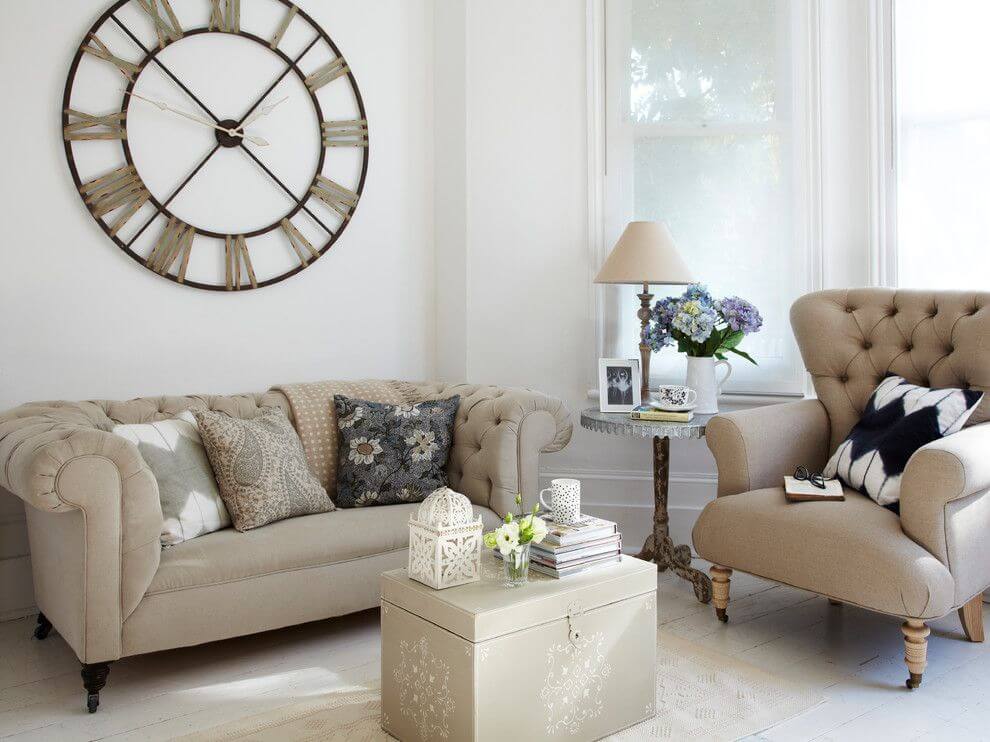 Tufted seating is a great way to get the vintage flair you need, but the farmhouse feel comes in the décor. Add vintage water cans and lanterns full of flowers to the tables. Add a lamp for lighting, and hang a giant, wooden clock on the wall to tie in the farmhouse style. You can even add several colorful throw pillows.
35. Quilt Display for Farmhouse Living Room Designs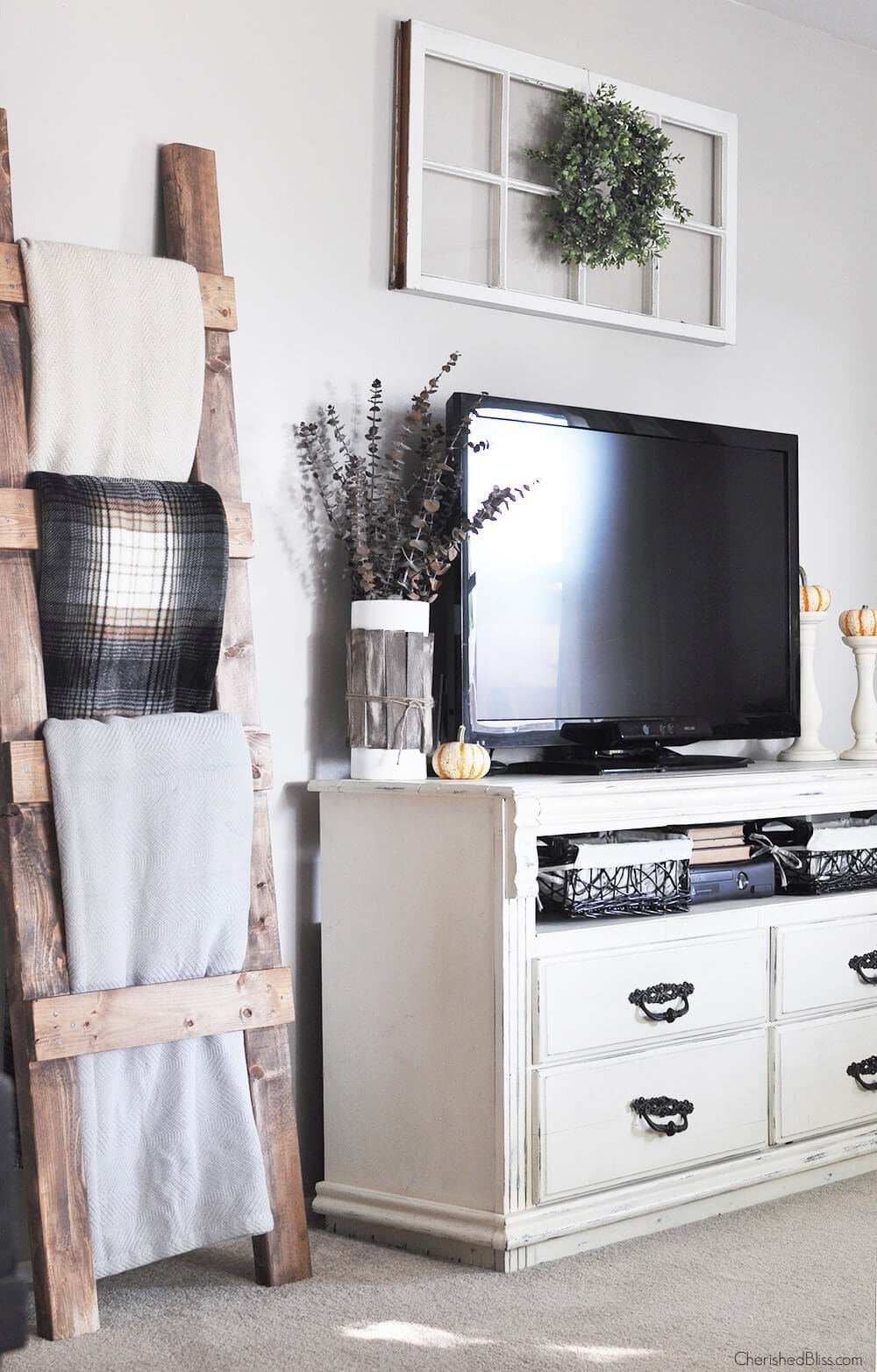 If you love displaying your beautiful quilts, a great way to do it in your living room without taking up too much space or ruining your farmhouse flair is with a ladder option. Use an old ladder with the rustic, rough wood showing. Hang your blankets on the rails, and lean it against the wall for easy storage and a rustic look.
Our Favorite Farmhouse Decorations to buy on Amazon