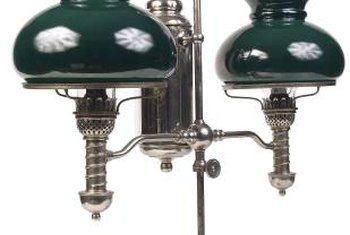 You could buy a new home in the1920s for under $1,500, according to the People History website. It was, however, a build-it-yourself kit, complete with everything required for assembly. Living rooms were a standard component of almost any 1920s floor plan and reflected colorful interiors with comfortable furnishings. A warm and inviting atmosphere combined with current decorating trends made a 1920s living room both functional and aesthetically pleasing.
Color Palette
The color scheme in a 1920s living room was often very colorful. A variety of greens, yellows, blues, reds, browns and violets made up an assortment of 1920s color palettes. For example, jade green, taupe, dark rose and creamy yellow might make up one color scheme, while another palette might consist of rose, tan, violet, grassy green and ivory. The colors were incorporated into a living room through painted walls, floor coverings, draperies, upholstery materials and accents.
Walls and Windows
Typical living room paint colors included ivory, soft green, light caramel and various shades of yellow. Paint applied to living room walls and ceilings during the 1920s might contain lead. If you hire a contractor to repair, paint or renovate your living room in a way that disturbs lead-based paint, he's required to be trained in lead-safe work practices. 1920s living room windows were often covered with draperies made from silk, pongee or cretonne materials. Floral-print draperies were common.
Flooring and Furniture
Living rooms in the 1920s often had oak hardwood floors. Colorful, patterned linoleum was also a typical flooring material. Large area rugs covered cold, hard floors to provide cozy comfort and warm texture. Living room furniture was often available in matching sets, which included several coordinating pieces. A typical set might include an arm chair, rocking chair, side chair and assorted accent tables. A davenport sofa, which was a large upholstered sofa that often converted into a bed, was a furniture piece found in some 1920s living rooms.
Lighting
Some 1920s living rooms used electricity to provide illumination and others brightened their spaces with oil lamps. According to the Minnesota Historical Society, 35 percent of all of the homes in the United States in 1920 were wired for electricity. This percentage increased to 68 percent in 1929. Oil lamps were suspended from the ceilings to provide overall ambient light in a living room that didn't have electricity. Reading oil lamps supplied targeted task lighting for reading and other hobbies. Electrical lamps, chandeliers and ceiling lamps illuminated living rooms that were wired with electricity.
Photo Credits
Hemera Technologies/PhotoObjects.net/Getty Images