Whenever we see brown and blue together, what do you recall? The mix of warm brown and cool blue feels natural – think earth and sky. Two simple words that seem so much, especially in the art and design industry. We believe that when these colors are not combined in the right amounts it sort of overbearing, but when they are in the right amount and in the right places, they are but special and lovely.
Today, we will be showing you pictures of 15 Interesting Combination of Brown and Blue Living Rooms that will make you change your mind about this great combo! Brown, as a neutral colors pretty much mix well with any color, but when we think blue – maybe royal blue? We have second thoughts, but not in this set of photos. We can say one thing is definite: a rich royal blue and a dark chocolate are especially current. Let's take a closer at the photos we have below.
Alamo Square Living Room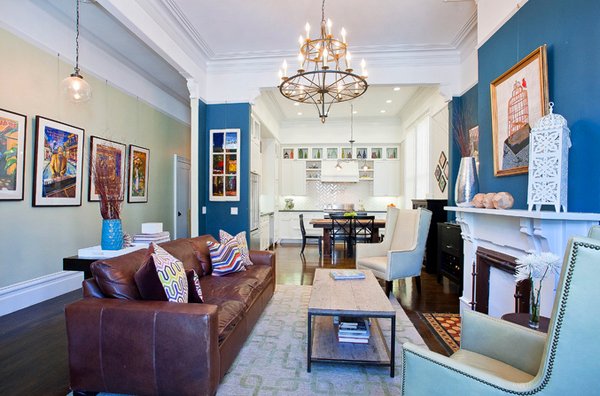 By adding the white wingback chairs, the look of brown and blue was completed. As evident in this living room, the usage of white in detailing like the chairs, the ceiling and the carpet, the colors just matched each other.
Coastal Living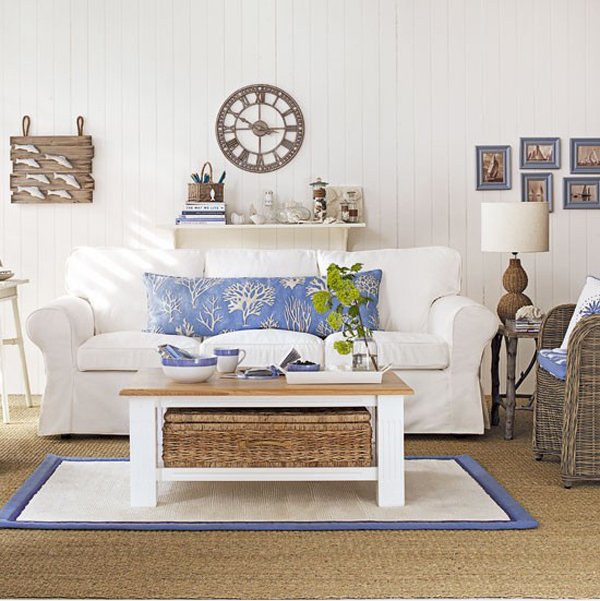 Fresh coastal blue works beautifully used in moderation as an accent color. In this room, we used white and mid-brown as the foundation of the scheme for walls, flooring and furniture, then simply added fabrics and accessories in a matching sun-bleached denim shade to create a living space that's airy and inviting.
Dramatic Damask Living Room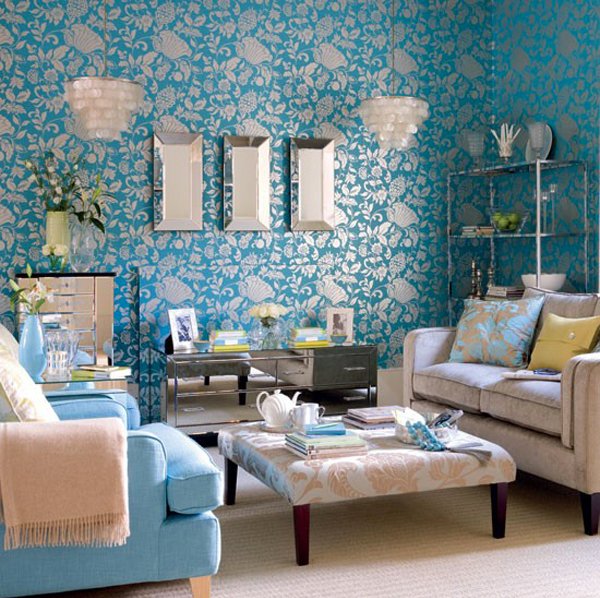 The wallpaper in dramatic damask print in this room gives a feeling of grandeur. The print is repeated on furnishings around the room. The look is completed with large mirrors and mother of pearl lamps.
Fort Lauderdale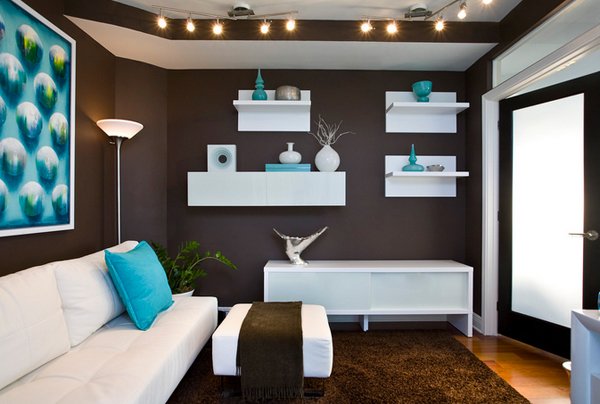 Just a thought, the reverse wall and accent colors – dark brown as accent and aqua blue walls. Interesting, right?
Home Nest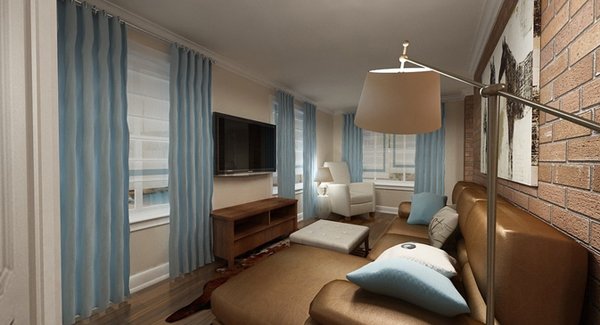 Won't you agree that the colors of the walls by the windows complement the brick walls by the furniture? The combination of brown and blue in this picture is rather calming and refreshing.
LA Teen Project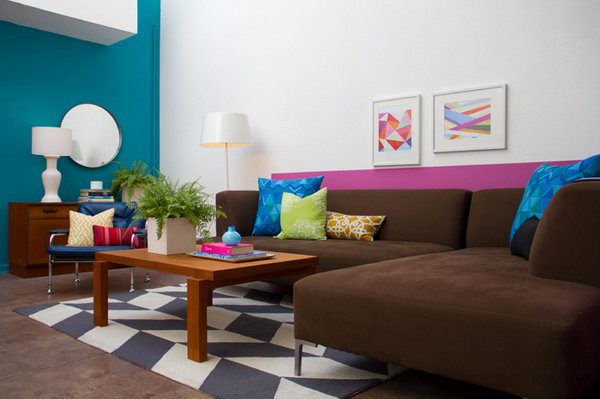 De Vargas used the design of the lounge area to set the tone for the rest of the project spaces. A retro-modern look infused with turquoise and magenta accents sounds jarring, but under her direction it's pleasing to the eye.
Palm Beach Apartment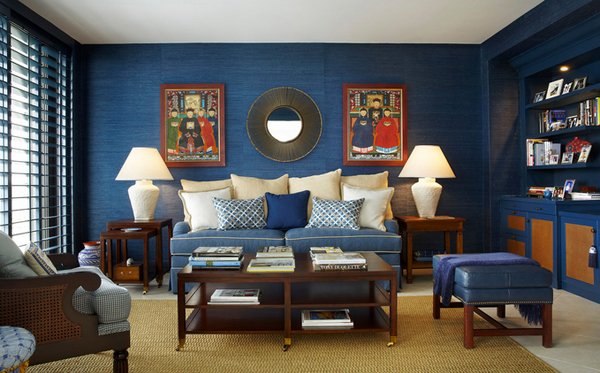 Chic but casual Palm Beach Apartment, incorporating seaside colors in an ocean view apartment. Mixing transitional with contemporary. This apartment is Malibu meets the Hampton's in Palm Beach.
Swan Fish Camp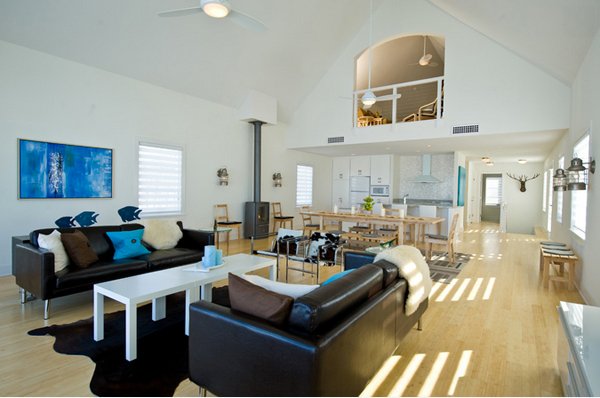 They desired a calm retreat, which resulted in a minimal yet comfortable contemporary design, inspired by the classic A-frame.
The Sandberg Home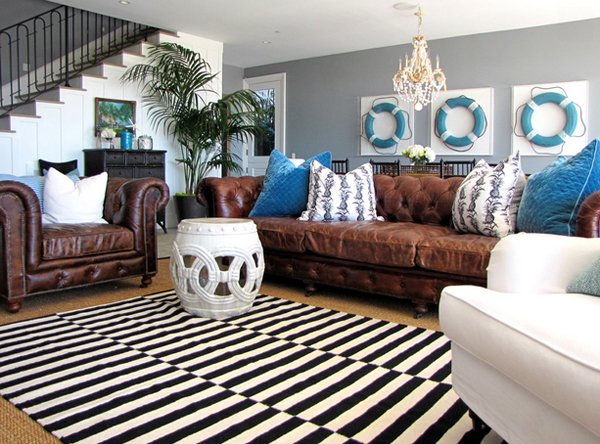 A black and white rug is a strong choice in this nautically inspired room. This striped model is similar to Madeline Weinrib's Black Buche carpets and Ikea's Stockholm Rand rug.
Transitional Style Living Space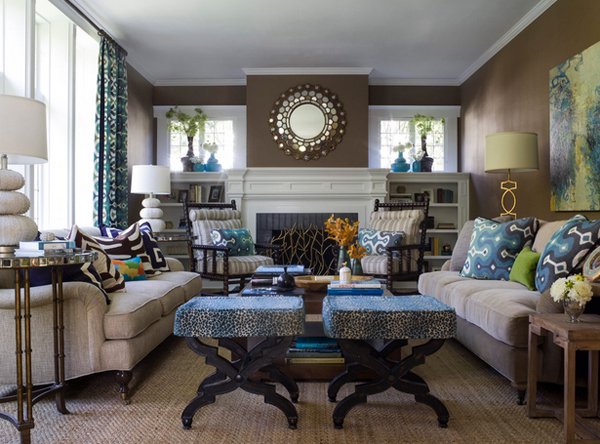 A fun, fresh, and inviting transitional space with blue and green accents and lots of natural light – designed for a family in mind yet perfect for entertaining.
Columbus Residential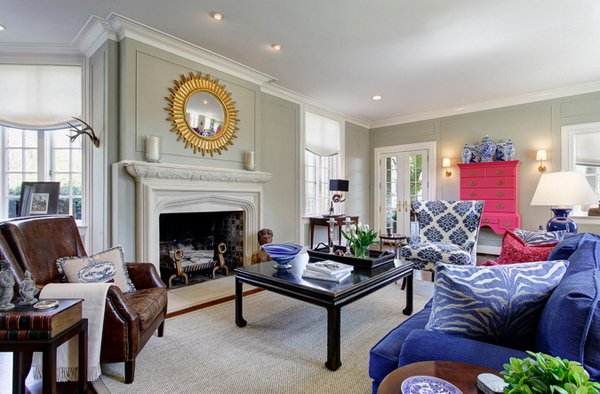 The color scheme for this living room is a bit not put together, but there is something in it that we cannot put our hands into – this living room is definitely pretty, functional and a treat!
Cow Hollow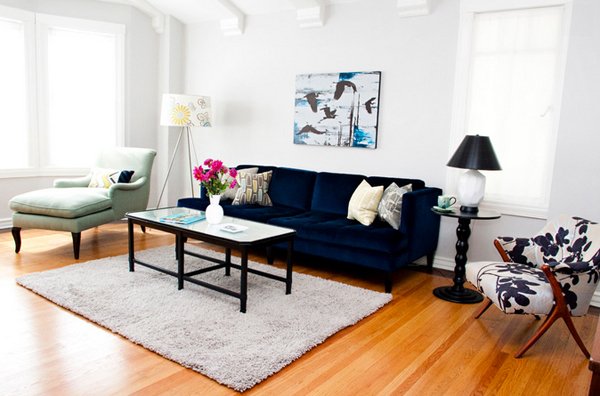 The richness of the color that the sofa has is incredible. It contrasts the flooring which is a good thing but once you look in closer, the room is superb!
Eclectic Living Room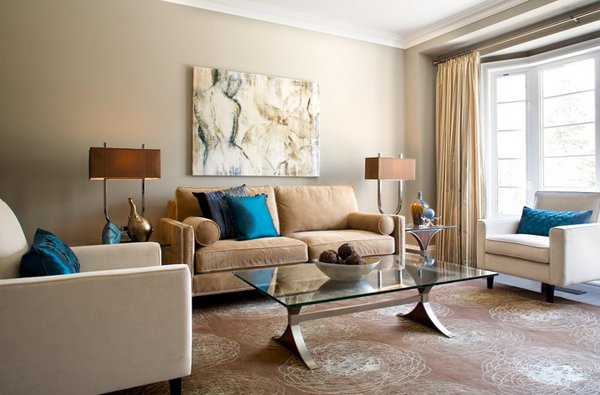 Notice the nice low-pile rug to go with teal and browns in the living room. Perfect combination, won't you agree?
NYC Apartment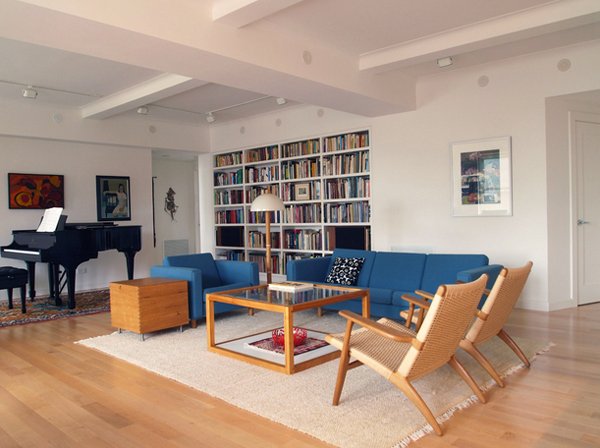 Aesthetic. We love the neutral palette w/ French blue chair/couch combo!
Western Springs Living Room
This royal blue sectional looks great in front of the yellow patterned window panels. Oh, how nice it would be to have so many windows! Natural light makes this dark couch shine.
Now that was stunning! The 15 Interesting Combination of Brown and Blue Living Rooms we just presented you with were some of the wonderful creations of fantastic designers and decorators that made the right decision in using the combination and showing them to us all! Interesting as all the pictures above are the photos we have in another list we have – brown living rooms which makes you take in more neutrals than you already have in your homes, go check them out!